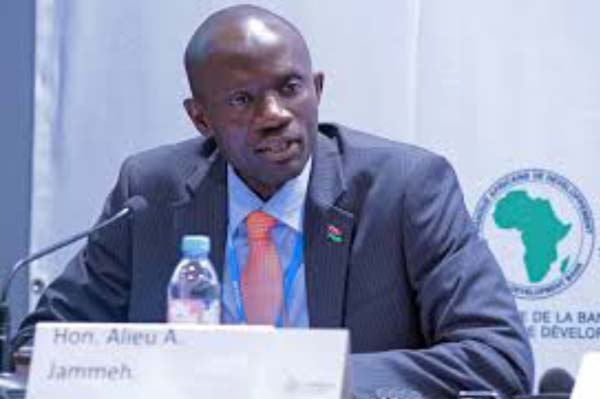 Today's edition of Youth Forum brings the recent launching statement made by the Hon. Minister of Youth and Sports, Alieu K Jammeh, at the 2nd African Artists Peace Initiative forum held on 26 January 2016 in Addis Ababa, Ethiopia.
He said in January 2006, the African Union adopted the Charter for the African Cultural Renaissance, which seeks, among others, to: Preserve and promote the African cultural heritage through preservation, restoration and rehabilitation; Encourage cultural co-operation among member states with a view to the strengthening of African unity, through the use of African languages and the promotion of inter-cultural dialogue; Strengthen the role of culture in promoting peace and good governance; and, Develop all the dynamic values of the African cultural heritage that promote human rights, social cohesion and human development.
"As a young African, it gives me a lot of pride that a decade after the adoption of this Charter, the people of Africa and African descent are proudly reasserting their identity and revisiting values and systems that have shaped us as Africans.
"Generations ago, our people had very well-functioning institutions and structures that ensured that differences and conflicts, whenever they emerged, are amicably addressed. In our communities, we had councils of elders, either for the men or women, who would sit in conclaves at the bantabas to always find peaceful solutions to challenges that they encountered as a people or as a community.
"Our people are confronted with a myriad of challenges, emanating from politico-ideological differences, competition for public office, claims over economic resources, wrong beliefs in the superiority of others over other people, etc, all wreaking havoc on our continent.
"We have deployed and continue to do so, of all contemporary mechanisms and yet still we see dangerous situations flaring up in and around the continent."
The Youth and Sports minister underscored that hearts obviously bleed for our brothers and sisters in all places where violent conflict is raging.
However, he added, "action we have to take, this is why I commend the pioneers of this very thoughtful and innovative initiative intended to use Arts as a tool for peace-building and conflict resolution on the continent.
"I am informed that the African Artist Peace Initiative (AAPI) organized a Pan African Consultative Forum (1st Arts4Peace Forum) on ''Promoting Peace through the Arts'' as part of pre-events of the AU January 2015 Summit."
He pointed out that the consultative meeting discussed and strategized ways to strengthen artistic leadership skills for the promotion of culture of peace; good governance and democracy in the realization of AU's strategy on 'Silence the Guns' by 2020.
"Indeed around the world, art, theatre and performance combined have helped transform conversations around social justice, pluralism, and Influenced political discourse on shared cultural values and identities.
"Arts can strengthen the emotional and psychological appeal of messages and provide a believable and interesting way to explore sensitive issues, particularly conflict related issues. For example, watching a carefully designed educational show or a piece of arts can change the way a person thinks and possibly the way he or she acts.
"Using arts as a creative tool for peace education provides an opportunity to debunk myths, present a balanced view, and influence behavior, if used effectively, it is an excellent way to present sensitive topics not usually discussed in public."
He underscored that they are gathered for the 2nd forum with the overarching objective to create a platform through which artists and various stakeholders can create an action factory for peace, retool and advocate creatively for peace education, social justice, conflict prevention and non-violent conflict resolution strategies in Africa, using the AU and UN peace mechanisms as a prefix.
He said the stakeholders intend to make a unique contribution to peace advocacy and education through the creative arts and more importantly, to demonstrate how arts can be applied to achieve important social objectives in the African society.
Minister Jammeh underscored that these efforts complement other broader declarations and intentions equally spearheaded at the continental level.
"African Union Heads of State and Governments adopted the 50th Anniversary Solemn Declaration, which recommitted the continent to making further progress in eight key areas, including in the areas of African Identity and Renaissance and Africa's place in the world, Peace and Security.
"In adopting the Solemn Declaration as well as the Agenda 2063 process and framework, the Heads of State and Government recognized that the African identity and the African renaissance are important element of Africa's total emancipation and development."
He said in May 2016, the government of The Gambia will be hosting the 10th year anniversary of the African Youth Charter tagged Banjul +10 through a youth summit and ministerial meeting, and one of the themes of the youth summit is: ''Youth and Culture of Peace in Africa''.
He said Article 17 of the Charter highlights the important role of African youths in the promotion and preservation of ''Peace and Security''.
"Ironically however, in every armed conflict in Africa, it is the young who are the most active in those conflicts, leaving the elderly particularly the women and children as the most vulnerable and the affected ones."
By building an ''Action Factory for Peace in Africa'', AAPI will be piloting and launching the African Artists Action Factory for Peace Programme (AFAP) 2016-2020 in ten countries namely Burundi , Rwanda , Central Africa Republic Burkina Faso Guinea-Bissau Ivory Coast Egypt Kenya Angola Mali .
He added that the main aim of the AFAP is to train and empower AAPI country coordinators, ambassadors and influential African celebrity artists on ''culture of peace'' concept, conflict resolution tools, advocacy and campaigning tools.
Minister Jammeh supported creating a continental and national action factory of pro-active artist's community, using their talents and skills to champion social justice, peace education and conflict resolution strategies in Africa. 
Read Other Articles In Article (Archive)