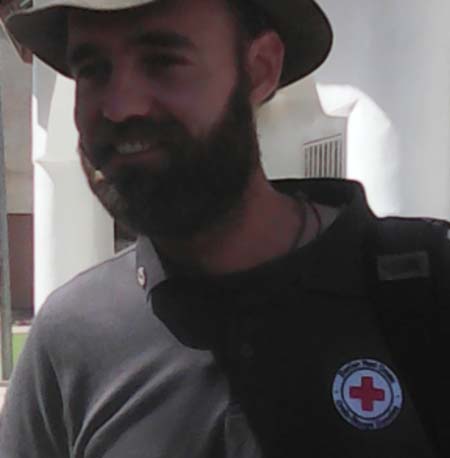 Torbjorn C. Pedersen, a goodwill ambassador of Danish Red Cross who has been touring the world without taking flight at any point, arrived in The Gambia as a national Red Cross Society on 25 May 2015 under the project titled "Once upon a Saga".
Mr Pedersen, who started touring the world in his home country Denmark on 10 October 2013, told journalists about his journey, objectives, challenges and experiences gained so far, at a press briefing held at the Gambia Red Cross headquarters in Kanifing.
He said that since he started the project The Gambia is the 82nd country he has visited.
"I am very happy to be here in The Gambia. I have been traveling for quite a while. This is a project called 'Once upon a saga'.
"I am traveling to every single country in the world in a single unbroken journey without flight. I will visit every country in the world and I will do it all without flying at any point and I will do it without returning home until I reach the last country," Mr Pederson said.
He said that as he travels around the world he is acting as a goodwill ambassador of the Danish Red Cross and he is honoring the Red Cross worldwide by visiting and writing about Red Cross activities all over the world.
The Red Cross Society is presently in 189 countries around the world.
"I started my journey in Denmark which is a small country in the northern part of Europe and I started on the 10th of October 2013 and I began by visiting the National Red Cross Societies throughout Europe. Then I cross the North Atlantic with seven different ships, some are fishing boats, container carriers and basically anything that floats and I made all the way across up to Iceland, Greenland and over to Canada and I reached the North America," he said.
He said he visited every country in North America then went to every country in Central America and then a small boat got him into South America where he visited every country in South America.
He said he had also been visiting the Red Cross National Societies in all the countries had been in the course of the journey.
He came back up through the Caribbean in 13 Island nations and went to the Atlantic Ocean in another container ship.
He said he recently entered the African continent where he is trying to make his way through. With all 54 nations in the Africa it is going to be a while before he could complete the journey to all the nations.
He said that in Africa he started in Morocco and through Western Sahara to Mauritania, Senegal, Cape Verde, Guinea Bissau, and from Bissau he made his way to The Gambia.
he said if he spends an average of seven days in each country in the world then it will take him four years before he would go back home. From The Gambia, he said, he would continue his journey to Mali.
On challenges, objectives and experiences of the journey so far, Mr Pederson said that anytime he gets to an island it becomes extraordinarily difficult due to ferry crossing hurdles but on land it is easier for him to move across the borders.
Regarding the objective of the project he said it is an education and learning process for him as he goes on learning about other places, people and cultures in different countries around the world.
He says he wants to promote humanity, universality and neutrality, which are parts of the seven basic principles of Red Cross.
According to him, the experience has been good so far meeting different people including Red Cross volunteers in different parts of the world.
Fatou Gaye, acting SG of the Gambia Red Cross Society, together with other volunteers
Read Other Articles In Article (Archive)