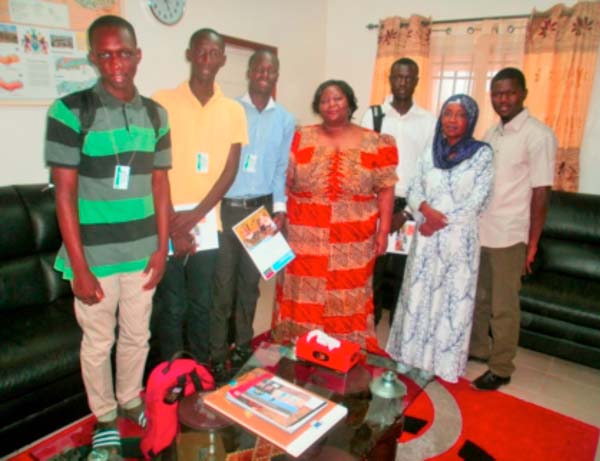 Officials of Climate Watch-The Gambia (CWG) recently paid a courtesy call on the Food and Agriculture Organization (FAO) office in Fajara.

The delegation led by Climate Watch Executive Director was officially received by the FAO Country Representative, Dr. Perpetua Katepa- Kalala, and her deputy, Mrs Mariatou Njie.
In his opening remarks, the Executive Director of Climate Watch-The Gambia, Saikou Suwareh Jabai, said the objective of the meeting was to formally introduce his organization to the FAO, and to seek technical assistance in their advocacy areas.
He said Climate Watch is a youth-led organization that seeks to curb the effects of climate change and other environmental challenges, through youth engagement.
As youths, he said, they have a pivotal role to play in this drive as climate change is unarguably the biggest threat to food security.
Since its inception, the organization has engaged in research, and promotes knowledge and awareness among youths and students on issues regarding climate change, the environment and agriculture.
Some of these course works, he added, were published in local and international media outlets.
Jabai added that part of their commitment is to work with policy makers and decision influencers, in advocating for strategic policies and programmes that address the priorities of youths and complementing the implementation to ensure that they are well observed.
While commending FAO officials for granting them audience, Jabai said Climate Watch is committed to engaging young people in addressing climate change.
The Information and Communications Officer of Climate Watch, Musa Abdoulie Jallow, said young people are the target group of their organization.
The organisation would commence a weekly radio show on Star FM soon, and that this programme, called 'Climate Talk', is aimed at building the capacities of young farmers, youths and students on climate change, the environment and agriculture.
He added that the organisation seeks to promote the participation of youths in fisheries and agriculture in The Gambia.
The Finance and Administration Manager of Climate Watch, Ebrima A. Jallow, expressed similar remarks, adding that it was high time for young people to take the frontline in the strife for climate change adaptation, mitigation and disaster risk reduction.
In response, the Country Representative of FAO, Dr. Perpetua Katepa- Kalala, thanked Climate Watch-The Gambia for coming to meet them, adding that it is always interesting to listen to young people.
She congratulated CWG officials for the broader thinking, saying it is excellent that young people want to get involved.
She said climate change matters so much as it affects every sector of our lives.
She advised CWG to identify critical technical partners who would build their capacities, and render some technical assistance in its project implementations.
She said youths have a big role to play in the development of agriculture, and that Climate Watch as part of their objectives could advocate to actively engaging youths in the sector, especially in aquaculture.
While urging CWG to meet other developmental partners like NEA, UNDP, UTG and others, the FAO representative expressed hope that the two organisations would work together, on issues regarding youth engagement in climate change adaptation and agriculture.
Also speaking at the meeting was the Deputy Country Representative of FAO, Mrs Mariatou Njie, who expressed delight with CWG, saying it was impressive that the youth-led organisation is committed to promote youth participation in fisheries and agriculture.
She said FAO has a number of projects that they are working on, some of which, she added, are targeting youths to enhance their participation in fisheries and agriculture.
Read Other Articles In Article (Archive)