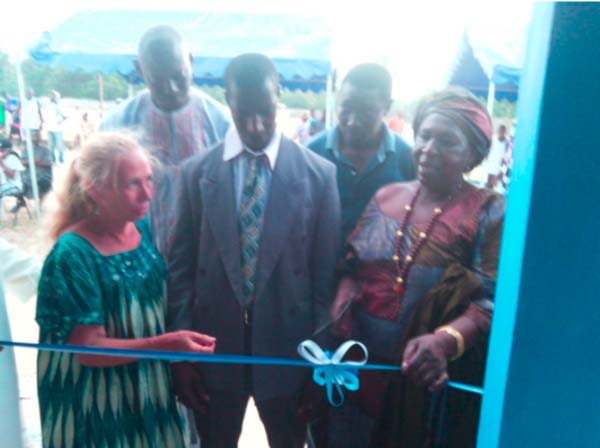 Service for Peace Sukuta chapter is a youth organization in Sukuta, Kombo North in West Coast Region, which advocates for peace through voluntary service and youth participation in development activities.

Last Friday it inaugurated a newly constructed security house at Dembadu mini stadium. The house was built by Service for Peace to the tune of D80,000.
In her handing over address, Berver Berndt, International adviser for Service for Peace, spoke briefly about the giant strides the association is making while calling for strong ties and unity between the association and the community of Sukuta.
Madam Berver encouraged the community of Sukuta to continue supporting Service for Peace as she underscored the importance of being helpful and supportive of the development of the community.
She also thanked the association for their invaluable contribution and participation at community level.
Speaking earlier, Sheriffo Makalo, who spoke on half of the Alkalo of Sukuta, said the effort of the association is well appreciated. He lauded the contribution of Service for Peace and expressed delight over the services they render to the community of Sukuta.
For his part, Ebrima Jadama, a representative from Federation for Peace Gambia, also dilated on peace and unity.
Jadama advised the youth to desist from crimes, and he underscored the significance of peace promotion.
He called on Sukutarians to remain united, adding that people should live together in unison and harmony as well as support one another.
Jadama applauded the efforts of Service for Peace.
Amadou Jammeh, coordinator of Service for Peace, said Service for Peace aims at bringing young people together and sensitizing them to seek peace and unity as well as sponsor them.
According to him since the inception of Service for Peace, he had contributed "immensely" to the development of the community and ranging from donations not only in Sukuta but also in many communities in the country.
''We sponsored two hundred students who graduated from high schools," he said.
Other speakers at the event were Cherno B. Cham, National coordinator, Service for Peace, and Lamin Darboe, all applauded Service for Peace for their giant strides and contribution to community development.
Read Other Articles In Article (Archive)