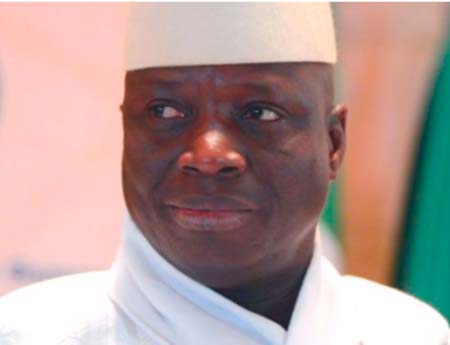 An anonymous witness and former protocol officer at the Office of Gambia's exiled former President Yahya Jammeh, who testified at the truth-seeking commission through audio has accused an Oustass, a senior government official at the time and Mr Jammeh himself of sexually abusing her.
She explained that at age 12, she was invited by her Oustass in his bedroom. "I found him in his house and he asked me to massage him but I refused and he grabbed me. He was having a knife. He slapped me and I sustained injury on my back but I could not tell whether that was caused by the knife."
She said she went and informed her parents about the incident, but he was nowhere to be found for a long time and later came to ask for forgiveness. "My father was very surprised and he said if a religious leader could do such then anyone else can. I was later taken to the hospital for treatment and that was when I left the Darra," the lady said.
According to her, from then, she began to discourage her sisters from enrolling in any Madrassa school.
She said another abused meted out on her was at age 15 in Junior school when a senior government official used to send her messages requesting to go with her to hotels and beaches.
"I later reported that to the justice ministry and the man denied but they saw that the number that used to text me, was the one he was using. He later apologized."
The anonymous lady also told the Commission that one of the abuses meted on her by former President Jammeh was when she first met him and he offered her a job of protocol officer at his office. "I told him to give me time to talk to my parents. On that day, he gave me 100, 000 dalasi for my project. I explained to my parents and they told me that is good to have two jobs. I later went to PMO for interview and I was appointed."
She continued that when she was there with other women, they were not given work to do and they will be referred to as the president's girls. "Jammeh used to give us phones, laptops and money as privilege."
The anonymous witness further stated that some of the protocol officers used to stay at the Statehouse and one among them told her that Jammeh used to abuse them sexually.
"When Jammeh travels to Kanilai, we used to go with him and we used to live in the same territory. Sometimes he will send us to go to his room at around 10pm. I heard from others that whenever he calls one of them, it was for sex."
She testified that she knew an individual who spoke to her that Jammeh wanted to use her and she refused, and he slapped her and ended up raping her. "One of the young women who he slept with told me that he didn't use condom and as a result of that, some got impregnated."
She said sometimes Jammeh used to call them for massage, adding that all she knew was for sex. She said one night, Jammeh called her and asked her to undress because he has to do a spiritual bath her. "I appreciated it because I thought he wanted to help me and I undressed. He bathed me and inside the room I was with him and Djimbeh Jammeh. Smoke was coming and the place was cloudy."
She continued that the next day he called her again at night and asked her to undress and he started touching her breast. "I was moving back and he was asking me what happen and Djimbeh said she like this, she use to be shy. I told him he is like a father and I never expected that from him and he got angry and terminated the scholarship he provided to me and expel me from Kanilai."
Describing that incident, the witness explained that it was difficult to leave the job but she had no choice because she needed the money; adding that she has family to help and she always wanted to be there.
She added that Mr Jammeh had tried to sexually abuse her the second time but he did not succeed, saying Mr Jammeh had abused many people.
Read Other Articles In Article (Archive)