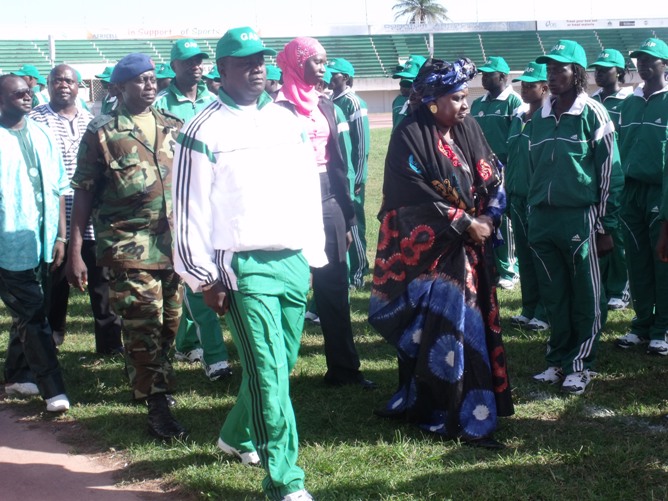 Gambian Vice-President Dr Aja Isatou Njie-Saidy, on behalf of President Yahya Jammeh, yesterday presided over the opening of a two-week inter-services sports and drill jamboree at the Independence stadium in Bakau.
The ultimate objective of the competition, according to the vice-president, is to standardize and strengthen relationship among the armed and security services.
The competition is also expected to bring together armed and security services to harmonise and revitalise sports and drill so as to instill discipline and foster understanding and cooperation among the services.
It is also meant to provide a common platform where services can showcase their sportsmanship and agility.
Also speaking at the opening ceremony was Interior Minister Ousman Sonko, who deputised Minister of Youth and Sports Sheriff Gomez at the function.
In his remarks, Hon. Sonko told the gathering: "Sport is a tool that can bring people together to foster unity and harmony and it also promotes peace and unity among people."
The competition, according to him, is in line with the objective of the national sports policy as a guiding document for the development of sports in the country through mass participation.
He used the occasion to encourage all the participants to demonstrate high sense of discipline and tolerance during the two-week period.
Minister Sonko further used the occasion to express profound gratitude to President Yahya Jammeh for "setting up this laudable initiative".
The services will compete in events such as football, athletics, marathon race, tug of war, volleyball and drill in the next two weeks.
Read Other Articles In Article (Archive)