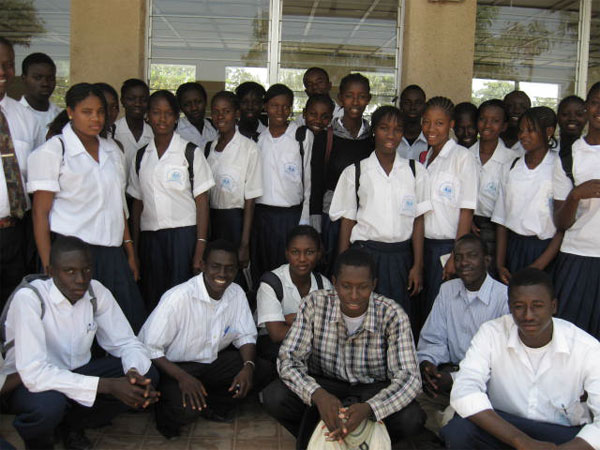 On  Tuesday, as part of their continued nationwide tour of schools, the executives of the Young Journalist Association of the Gambia (YJAG) visited SOS Hermann Gminer Technical and Kotu senior secondary schools in Bakoteh and Kotu respectively.
Addressing meetings at the two schools, Demba Kandeh, Secretary General of YJAG, informed students that the purpose of the tour was to build relationships with press clubs, introduce the association to them and to help provide counseling on journalism to the country's potential future journalists.
He used the forum to outline the aims, objectives and future plans of the association to students who were eager to know more about YJAG.
Musa Ndow, first vice president of the association, recalled the numerous activities carried out since the establishment of the young professional body some seven months ago. He also encouraged girls to consider becoming journalists noting that journalism is a noble profession for both men and women.
In his welcoming remarks, Mr. Hassan S.Conteh of the language department of SOS said that the school used to have what they called Radio SOS but this is not active any more.  He stressed  that they do have a magazine called TAMA, which usually contains all the information about the school in an academic year and stories written by their students.
For his part, Mr. Nfamara Jawneh, president of YJAG, expressed his happiness upon visiting his alma mater, SOS Hermann Gminer Technical senior secondary school.
The YJAG leader recalled that in his school days at SOS he served as the assistant head boy and president of the school press club known as Radio SOS. He said that Radio SOS used to be very active during his time and encouraged the school authorities to reactivate it in the interests of the students.
Mr.Jawneh advised the students to work hard and maintain the culture of writing and reading in order for them to become successful journalists in the future.  He concluded by urging the students to keep the flag of SOS flying high.
At Kotu Senior secondary school the strong leader of YJAG used the forum to once again clarify the differences between Young Journalists Association of the Gambia (YJAG) and Young People in the Media (YPM).
The two meetings were chaired by Assan Sallah, the Public Relations Officer of YJAG, who thanked both the students and their coordinators for the warm welcome that YJAG received.
At both SOS and Kotu students expressed their unshakable loyalty and support for YJAG.
The vote of thanks was delivered by Ebrima Saidy at SOS and by Awa Conateh at Kotu.
Read Other Articles In Article (Archive)