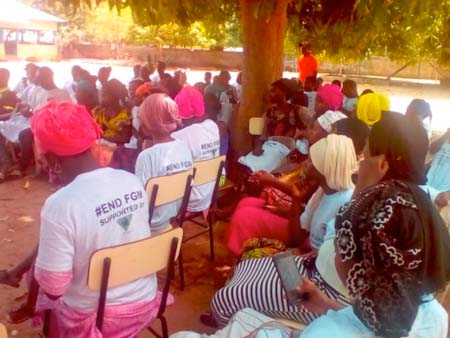 YesWeCan for Children Foundation recently organized a daylong workshop to sensitise the community of Touba Kuta in ending the practice of Female Genital Mutilation (FGM).

FGM is everyone's issue, and each of us could play a role in creating a world that is safe for girls. "Yes we can end FGM."
Speaking at the workshop, Essa Jallow, the executive director of Yeswecan for Children Foundation, said the workshop was about sensitising the community of Tuba Kuta on FGM so that at the end of the day they would participate in ending the practice.
According to Jallow, their intention was to engage them into dialogue so that they would relate the message and to start questioning their own belief.
"We believe that FGM is every one's issue and our girls deserve to be educated so that their rights will not be violated," he explained.
He said the participants participated well as FGM is a very sensitive issue, adding that some communities are still conservative; they want to still continue despite lot of efforts being made by other sister institutions in the work to end FGM.
He pointed out that even though the law is in place, people are still practicing FGM, adding that they already have had series of radio programmes with FMB radio and other radios.
"You cannot stop it at once; it takes time but at least we were able to reach few communities to reduce the percentage of practicing FGM," he stated
He said they normally make a survey by calling a focal person, who they identify to gather information about some of the villages.
They then decided to gather these communities to engage them into discussion and debate with them about the issues on FGM.
"You cannot convince all but we were able to convince few of the masses," he noted.
Fatou Njie, a participant said they were very happy about the programme because they have learned a lot concerning FGM.
"First time we thought people were just fooling us but we came to realise that FGM is a very bad thing which is affecting our society," she agreed.
She admitted that they used to take their girl child for circumcision but they have now known that, that was causing harm to their children, and they have decided to abandon it.
Bubacarr Kambi, also a participant said he has learned a lot about in the programme, adding that before he was not interested in such programmes but that was a great lesson for him.
Read Other Articles In Article (Archive)