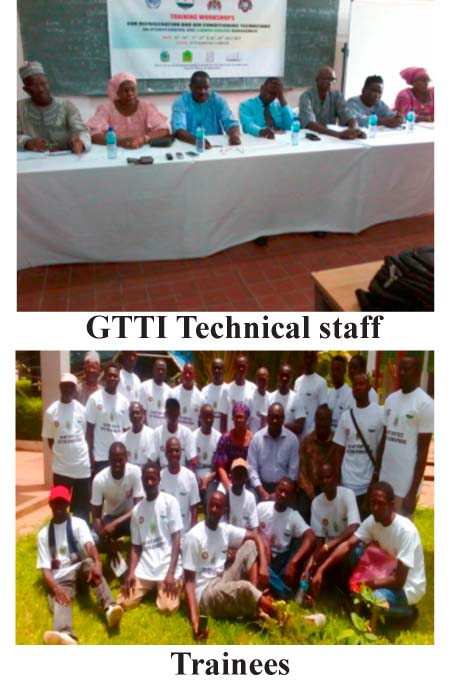 Gambia Technical Training Institute (GTTI) engineering department is training three sets of technicians at their campus on the UNIDO project in raising awareness on hydrocarbon and carbonoxide management in the use of refrigerator and air conditioning.

Speaking at the opening ceremony, the Director of academics at GTTI, Edward C. Mansel, said Gambia Technical Training Institute in fulfillment of its mandate with its partners is to address the middle level manpower needs of The Gambia.
They have engaged in series of technology transfers to technicians in the refrigeration and air conditioning industry in The Gambia, he added.
He said the training was a capacity building one for technicians in fulfilling one of the desired outcomes of the innovation and enterprise efforts to provide practical platforms for technicians in the area of their expertise in the use of natural refrigerants.
He further stated that the lack of knowledge and information about the natural refrigerants and training facilities in the use of gases was a great concern to environmental degradation, which is the basis for global warming.
He said GTTI is a training provider for technical education in The Gambia and has partnered with NEA for the past 18 years.
The purpose for the training was to educate the technicians on the best and most cost effective approach in reducing greenhouse gas emission, he stated.
The promotion of natural friendly gas for refrigeration and air conditioning application was a contract signed between UNIDO and GTTI to embark on awareness raising campaign to build the capacities of technicians and entrepreneurs.
Momodou LBS Drammeh, head of Engineering Department at GTTI, said the training would help technicians in creating awareness in commercial applications of ozone depleting substances in reducing greenhouse gases as they deal mostly with individuals and community.
Their participation would go a long way in environment related issues like energy efficiency projects and the introduction of renewable energy in a bid to ensure that the environment is clean and void of pollution.
Read Other Articles In Article (Archive)