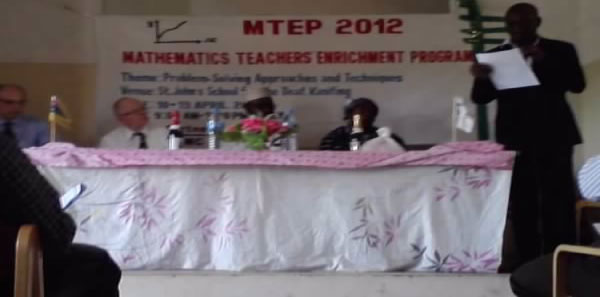 Youth Care Foundation (YCF)-the Gambia, in collaboration with the Centre for Education in Mathematics and Competing (CEME)-Canada, on Tuesday ended a two-week intensive mathematics enrichment programme for teachers.
The training held at the St. John's School for the Deaf, brought together 39 teachers from different Upper Basic schools and Madrasas as well as 23 teachers from different senior schools.
The objective of the training is to improve the pedagogic knowledge, skills, in-depth appreciation of item writing, departmental management and other aspects.
Speaking at the closing ceremony, Kolapo Abdul, Executive Director of YCF The Gambia, said the rationale behind the training is to increase performance and lesson delivery skills and pedagogies in classrooms.
The approach makes the teachers learn by transferable principle, he said, adding that it equips the teachers to be masters of each topic they handle.
"Teachers who teach math want their students to succeed in mathematics; they want students to experience high-quality, engagement mathematics instruction," the YCF director noted, saying this led to the designing and development of the mathematics teachers' enrichment program as an outreach program of YCF and their partners."
Mr Abdul called on stakeholders to support the initiative, which "could be developed into an Institution of Sciences and mathematics".
It would also serve as a feeder for mathematics development and promotion in the country as well to assist a great deal in the Vision 2020.
Prof. Steven Furino, International development officer of the CEME, said he wants mathematics to succeed and be popular among students all over the world.
He challenges the teachers to take what have been learnt to the classroom and encourage the students.
For his part, the president of the math teachers association, Saidou Jallow, expressed delight at the success of the event, noting that it was "a very good intervention".
He commended the YCF and the CEME for their efforts, saying the subject of math is a global problem but is something "we cannot do away with".
Mr Jallow urged the participants to face the challenge and let the country be at the forefront in ensuring mathematics enrichment.
Fatou Touray, Senior Education Officer, Region one, lauded the YCF further describing them as an organization with a difference.
He thanked the teachers while urging them not to overlook any topic in the classroom and to make best use of the initiative.
At the end of the two-week training, participants were each awarded with certificate of attendance.
Read Other Articles In Article (Archive)