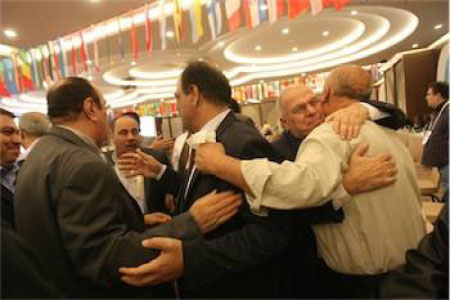 President Gianni Merlo, unopposed for the position of AIPS chief, was unanimously reelected at the congress, held on 17 April 2013 at Moldova SOCHI.
The latest 4-year office term became the third for Merlo. Esat Yilmaer of Turkey remained in the position of the First Vice-President. 
The President of Sports Media in Austria, Michael Kuhn, will join the Executive as the AIPS treasurer.
A number of candidates have contested the positions of the vice-presidency and members of the board.
After the voting, Laima Janusonyte-Steinhoff (Lithuania), Nickolai Dolgopolov (Russia), Mohammad Al Malki (Qatar) and Haifeng Zhang (China), who were also part of the previous executive, were named vice-presidents.
The following journalists will fill in the positions of the members of the Executive Committee: Evelyn Watta (Kenya), Jalal Bouzrara (Morocco), Vicente Dattoli (Brazil), Dezso Dobor (Hungary), Emanuel Fantaneanu (Romania), Hee Dong Jung (Korea), Malik Amjad Aziz (Pakistan), Barry Newcombe (Greta Britain), Ernesto Ortiz Gomez (Uruguay) Jura Ozmec (Croatia), Jean Paul Savart (France), Hiroshi Takeuchi (Japan) and Abdulla Ibrahim Bin Hussain (UAE).
The voting procedure, where 52 countries represented the majority, took place electronically.
In total, 104 countries took part in the voting procedure.
By Natalia Donets
AIPS Young Reporter
Read Other Articles In Article (Archive)