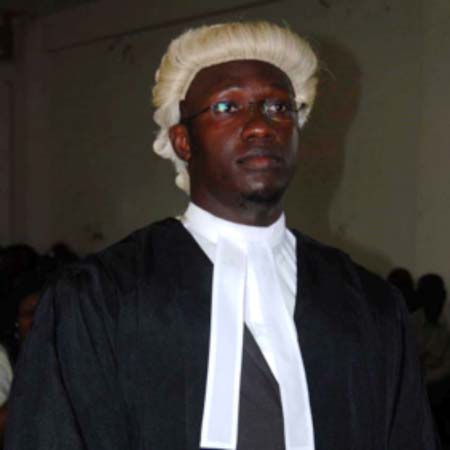 Bubacarr Badjie, legal adviser of the State Intelligence Services (SIS) who blew the whistle over the alleged lack of any serious reforms taking place at the agency in post-Jammeh Gambia, is the subject of latest investigations by The Gambia government.

Mr Badjie had been served with an interdiction notice from the Personnel Management Office (PMO), notifying him of his suspension over violation of the ethics of his job at the agency. Alleged violation is the leaking of official government correspondences to Freedom Newspaper Online.
The interdiction notice was issued following a complaint by the SIS director general Ousman Sowe to the PMO that Badjie was the one who leaked a petition to the online newspaper even before the President had the chance to see and respond to the petition which was written by Badjie himself.
Under the agency's service regulations, DG Sowe cannot fire Mr Badjie as head of a department but could seek an interdiction from the PMO, which came easily after the complaint last week.
But Badjie vehemently denied leaking the petition to the online paper, saying he would "surely be vindicated" after the investigations are completed.
As part of the investigations, journalist Sanna Camara, author of the story from petition published in The Point last week, was summoned by the CID officers at Kairaba Station Police on Saturday afternoon to "clarify" his role in the leaking of the petition to Freedom Newspaper.
Mr Camara in his statement at the police denied having anything to do with Freedom Newspaper.
Meanwhile, Badjie maintained that he is subject of witch-hunt by the head of the agency who he accused of being unwilling to implement reforms recommended by the new government and specially reluctant to hand over all suspects in the murder of Solo Sandeng.
However, the agency reacted to the allegation, describing Badjie as a "renegade officer" whose allegations constitute violations of official secret.
Badjie was picked up by officers of the Criminal Investigations Department after he was served with the interdiction letter at around 7pm last Friday.
He was initially to be arrested by the special operations unit personnel of the SIS but he refused, saying he would not subject himself to arrest by "agents whose hands are tainted with blood of innocent Gambians".
He opted to be arrested by the police instead and it was the police who eventually arrested him and took him to Kairaba Station.
Read Other Articles In Article (Archive)