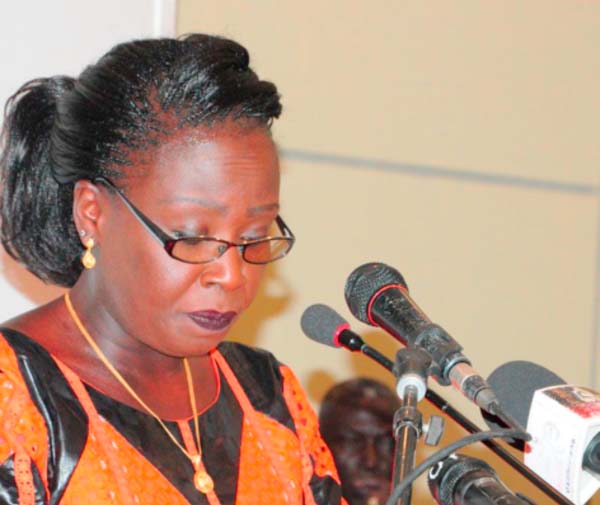 The Gambia government has launched a US$11.4 million project, funded by the European Union, to improve food security and reduce stunting growth among children in North Bank, Lower River, Central River and Upper River regions.

The 30-month project, to be jointly implemented by the Food and Agricultural Organisation (FAO), World Food Programme (WFP) and the United Nations Children's Fund (UNICEF), was launched at Kairaba Beach Hotel on Thursday.
It would be implemented in close partnership with the Department of Agriculture (and its specialised units), the National Nutrition Agency, the Ministry of Health, the National Disaster Management Agency, the Gambia Red Cross Society, Farmer Based Organisations, and the Women's Health, Productivity and the Environment NGO (BAFROW).
Delivering a joint statement by FAO, UNICEF and WFP, Perpetua Katepa Kalala said poverty eradication is the greatest challenge facing the world today, adding that sustainable development cannot be achieved unless hunger and malnutrition are eradicated.
The FAO Gambia representative said the proportion of the number of people living below the poverty line in The Gambia is 48 per cent which means one out of two people living in the country lives below acceptable level of poverty line.
Dr Kalala said due to the population growth, the number of people in the poverty line increase about 140,000 people with an average of 3 per cent increase in the population every year.
She said in some regions, seven out of every ten people are below the poverty line and that is high, and most of such people live on agriculture, fishing and natural resource exploitation.
The EU ambassador to The Gambia, Attila Lajos, said the US$11.4 million project aims to provide product support to rural communities that are vulnerable to food and nutrition insecurity.
The ultimate aim of the project, the ambassador said, is to contribute to the reduction of stunting growth and supporting households in agricultural production, food diversification and malnutrition.
The Minister of Health and Social Welfare, Saffie Lowe-Ceesay, said food and nutrition security is about access to sufficient and affordable nutritious food.
She pointed out that under nutrition is a major public health problem in The Gambia and it is exacerbated by factors such as the poverty level, food insecurity, poor sanitation and hygiene, and increase disease burden.
The Gambia Demographic and Health Survey, 2013 shows that 24.5 per cent of children under 5 years suffers from stunted growth.
"Poor sanitary and hygienic conditions shuffled with inadequate access to safe water are among the major factors contributing to the high level of malnutrition of children among under 5 years in The Gambia," the minister said.
Read Other Articles In Article (Archive)