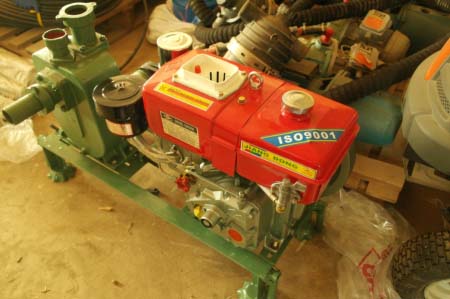 Wetlands International Africa last Saturday donated farming materials to Bondali Tenda in Foni Jarrol in the West Coast Region and Sandeng in the Kiang West in the Lower River Region, as part of efforts at boosting agricultural development in the country.
The donation of the materials, which included pumping machines, watering cans, fertilizers and other farming tools, is to complement farming activities of the two communities.
Speaking to journalists in Bondali and Sandeng villages, Pape Diomaye Thiare, communication officer of Wetlands International Africa, thanked the two communities for their warm welcome, saying they are true supporter of the organization.
Wetlands and their partners work with The Gambia government through the Forestry Department, Parks and Wildlife and the National Environment Agency (NEA) for the rehabilitation of mangroves in Kiang West and Foni Jarrol, he noted.
The Wetlands Communication officer also told journalists that the objective of the project is to improve the mangrove in the two communities as well as to preserve the ecosystem.
He said further that the project is a three-year initiative aimed at supporting the various communities to regain their lost or damaged mangroves.
This came following a request from the two communities, he said.
For his part, Cherno Gaye, deputy director at the Department of Forestry and the Environment, thanked Wetlands International Africa for their support, saying the materials would go a long way in helping the two communities in their farming.
The donation of the materials is all about complementing government's efforts in the agricultural sector, he said, calling on the two communities to put the materials into good use as well as to take good care of them so they can serve longer.
Other speakers at the meeting were the Lady Councillor of Foni Jarrol, Metta Koita, and Nanding Njie from Sandeng in Kiang, who said the donation would boost the socio-economic status of the beneficiary communities.
Read Other Articles In Article (Archive)