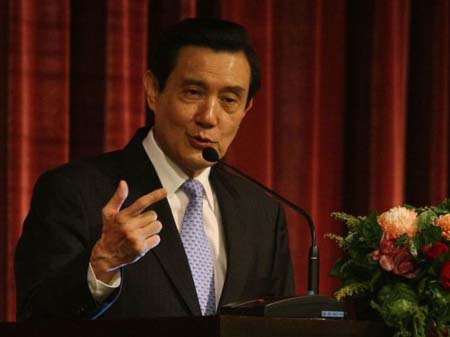 Taiwanese President Ma Ying-jeou instructed the Ministry of Foreign Affairs Monday to "reflect on the bitter experience" of the sudden loss of a diplomatic ally and conduct a full review in order to prevent similar incidents in the future.
In a meeting of senior government and ruling party officials, Ma asked why Gambian President Yahya Jammeh suddenly announced a decision to cut off ties with Taiwan without warning, according to Presidential Office spokeswoman Garfie Li.
The announcement came despite frequent high-level visits between the two countries, successful bilateral cooperation programs and the lack of intervention from China, Li cited the president as saying.
The foreign ministry should find out the reasons behind Jammeh's decision, look into Taiwan's relations with other allies one by one and take active measures to shore up bilateral ties, Ma said.
Diplomats on the front line should also be on high alert and try to preempt such incidents, he added.
Ma reiterated his three principles of foreign aid -- seeking legitimate goals, acting lawfully and exercising effective administration -- and said the government will always abide by those principles when considering requests for assistance from allies.
The dignity and interests of the nation must be upheld, he said.
Ma defended his "flexible diplomacy" approach, saying that in the past five years it had consolidated Taiwan's ties with its diplomatic allies, improved Taiwan's international standing and expanded the country's room for maneuver.
Those benefits have proved the policy to be viable, and the government will follow it through and seek the support of all the people, the president was quoted as saying.
Taiwan terminated diplomatic relations with The Gambia on Monday, three days after the West African state unilaterally announced a break-off of formal ties.
Opposition politicians and other critics have blamed the move on Ma's "flexible diplomacy" approach and "diplomatic truce" with China, contending that the policy has led Taiwan to neglect its allies and forced them to chart their own path.
Read Other Articles In Article (Archive)