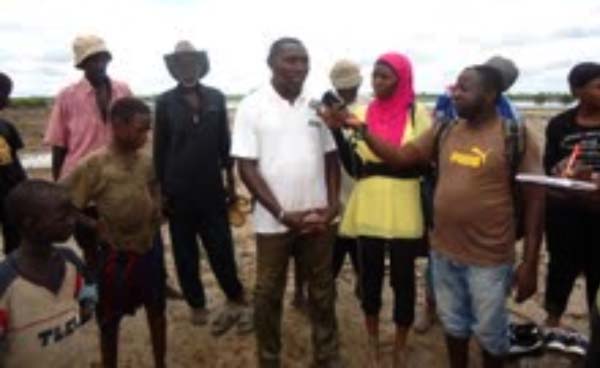 Wetland International through CCLM project, in collaboration with the Department of Forestry, the community of Jiffarong village, and representatives of the media, Tuesday embarked on a massive rehabilitation of mangrove in the Lower River Region at the most degradation areas.
The rehabilitation of this fifteen hectare of verse degradation of land was well participated in by the said women community to restore a healthy ecosystem.
Speaking at the exercise, Richard Dacosta, project coordinator, Wetland International Africa based in Dakar, explained briefly about the project, saying Wetland is an International non- governmental organization based in Dakar Regional office for Africa and the headquarters is based in the Netherlands.
He said Wetland International has more than two hundred and fifty experts working around the world on different issues like mangroves, water bird, livelihood activities in both Africa and America.
He said that in The Gambia Wetland has a kind of MOU with the forestry department on mangrove rehabilitation along Bintang Bolong through a project called CCLM, Canary Canal Land Mangrove to be ecosystem.
He said Wetland had also signed an MOU with the fisheries department and parks and wild life on various issues of concern to implement in The Gambia.
He added that they in their last year planting at Jifffarong village, which is a new selected side for the project, saying that a couple of years ago, the project together with Bondali Tenda and Sandeng, planted mangroves along the Bintang Bolong.
He said Wetland and WFF has been working together to ensure that mangroves are rehabilitated to ensure a healthy environment ecosystem.
This is a sub-regional project which started from Mauritania to Guinea Conakry, Morocco, Senegal, Gambia, Cape Verde and Guinea Bissau.
He also stated that since there were no mangroves in Morocco and only a little bit in Mauritania, they could only focus on Gambia, Guinea Bissau, Senegal and Guinea Conakry.
He said their demonstration sides are in Guinea Bissau and The Gambia and the project in The Gambia is working along the Bintang Bolong in five villages in the Lower River Region.
He further spoke about the importance attached to mangroves rehabilitation, noting that mangroves serve as a protection to stop the salinity in the swamp for improved rice cultivation.
Read Other Articles In Article (Archive)