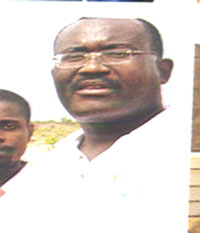 In a move that has been seen by many as long over due, The Gambia Agency for the Management of Public Works (GAMWORKS) has finally signed the civil works contract for the reconstruction of the Westfield-Sukuta road.
The Islamic Development Bank and the Government of The Gambia are financing the project.
The contract for the reconstruction of this road has been awarded to COPRI, a Kuwaiti construction firm to the tune of over US$10m.
As part of the loan agreement, the government of the Gambia is putting in US$867. 572 million as counterpart funding, giving a total project size of US$8.572 million.
Upon completion, the 7.5 Kilometre stretch which links the road from Westfield Junction and the Coastal road will among others include a two-lane carriage way, drainage system, lightening, traffic lights, walkways, and a bridge at Bakoteh.
Speaking at the signing ceremony held at the GAMWORKS office yesterday, Mr Ebrima Cham, Director General of GAMWORKS deplored the present condition of the road, which he said, prevents the efficient movement of goods and passengers.
According to Mr. Cham, the agreed contract for the reconstruction of the road is D204, 041, 021.47 (Two hundred and four million, Forty one thousand and twenty one Dalasis and forty-seven bututs).
"This huge investment by the Government of The Gambia and it confirms the commitment of President Jammeh to the infrastructure development of this country," he said.
He also urged the contractor to mobilise his equipment and staff in the shortest possible time, citing as example, the current condition and economic importance of the road.
For her part, Mrs Adda Gaye, Deputy Permanent Secretary at the Department of State for Finance and Economic Affairs said the infrastructural development of this country is a cornerstone of Vision 2020.
According to her Vision 2020 is one of the pillars of the country's Poverty Reduction Strategy Paper and one of the key priorities of President Jammeh.
She added that the project was initially funded under the Trade Gateway Project under the Gambia Investment and Free Zones Agency.
"As you will agree with me, the Government of The Gambia is making huge investment in the reconstruction of Westfield Sukuta road. I therefore hope that the contractor will do all he can to ensure that there are no delays in the implementation of the works", she noted.
Also speaking earlier, Mr. Bakary Houma, Permanent Secretary at the Department of State for Works, Construction and Infrastructure expressed government's resolve to always invest in the development of roads in this country.
Other speakers on the occasion included Mr. Yankuba Colley, Mayor of the Kanifing Municipal Council; and Mrs. Sainabou Faal, Deputy Governor of Western Region. The vote of thanks was delivered by Mrs Asyhme Saine, Communications Officer, GAMWORKS.
Read Other Articles In Article (Archive)