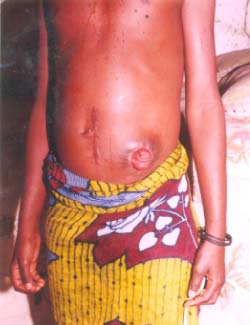 It would seem strange for someone to ease him or herself with a part of the body other than the anus, but in the case of an eight-year-old girl (name withheld) this is what she does.
A native of Medina Manda and a resident of Old Yundum uses her stomach to ease herself anytime she wants to relieve herself.
According to a medical report issued by the Royal Victoria Teaching Hospital, "the patient was born with imperforate anus or metroayine fistulae".
The report added that she was coming several times to the out-patient department.
"Actual examination was done", according to the medical report, and the operation she needs is not presently available in the country and she, therefore, needs to go overseas.
Morr Mbye, father of the patient said the operation abroad requires a lot of money, and he does not have the capital to take her abroad.
He used the interview to appeal to President Yahya Jammeh, the Government and philanthropists for help.
Meanwhile, anyone who may wish to help the girl could do so by calling any of the following numbers: (220) 7856837, 7479088 or 6398169 or better still via email thepoint13@yahoo.com. 
"The child is really suffering and she cannot even go to school right now," the father lamented.
Read Other Articles In Article (Archive)