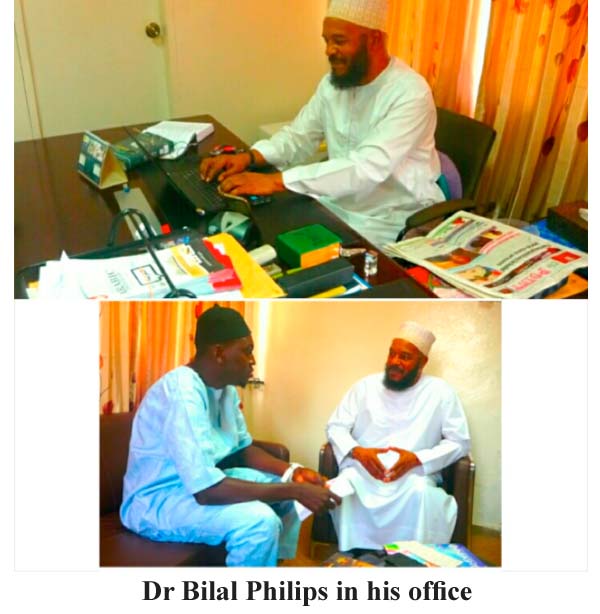 In an exclusive interview with The Point newspaper, the founder of the Islamic Online University (IOU), Dr Bilal Philips, has reiterated his commitment to establishing close partnership with the University of The Gambia. Excerpts of the interview:

The Point: First of all, congratulations to you and your staff on your recent graduation ceremony. How do you feel graduating yet another batch of students?
Dr Bilal Philips: Well it's of course Alhamdulillah, a great blessing from God that we have managed to achieve what we have achieved in such a short span of time; it is indicative of Allah's blessings on it and we hope that it will continue to grow as it has been in the past. The degree to which the society is aware of what we are offering determines its growth. Actually, we have not spent very much on promotion, what we have is what Allah gave us but we hope in the coming years to come, we will increase our promotional activities so that more and more people are aware of what we are offering. That should make an even greater difference for the future expansion of the programmes that we are offering.
The Point: Since the inception of the IOU in The Gambia in 2013, more than 1,500 Gambians have benefitted and recently 378 have added to that number. Do you expect to achieve something greater in just a short period?
Dr Bilal Philips: Not really. By establishing IOU, are trying to address a need that we knew was huge so those numbers that you mentioned are great numbers from an institutional perspective but when you look at those numbers in terms of the need of the society, this is just a drop in an ocean; we have an ocean in front of us. So there is a lot of scope and room for expansion of the programmes and increasing the benefits to the Gambian society to integrate our graduates from the madrasas into mainstream education for them to play the kind of role that they should be playing.
The Point: What are your expansion plans for IOU in The Gambia?
Dr Bilal Philips: To reach more of the Madrasa students because the 'Intensive English Course' [at IOU] is mainly for such students, and those who have studied in the conventional schools and did very poorly in their English (WASSCE). We hope to reach out to them to help them improve their own skills so that they could retake WASSCE and do better or even if they got through to upgrade the standard of their English. We expect to expand in those areas also.
The Point: How is your institution looking to partner with the UTG?
Dr Bilal Philips: Well, we have already met with the Vice Chancellor of UTG, Dr Anjum, and we have already identified the areas of cooperation. We are preparing a memorandum of understanding between the two institutions. We will be working very closely with UTG; providing the knowledge to help them put their programmes online as well as to offer some of our courses through their portal. Also, the IOU as a university would benefit from the facilities like labs from the UTG. So it is a mutually beneficial arrangement.
The Point: Why was The Gambia chosen as the global headquarters of the IOU?
Dr Bilal Philips: The IOU is actually an online university, so technically speaking it has no headquarters, it is in cyberspace. All of our staff are scattered around the world, we have been functioning for the last seven years and never met. We communicate through emails, virtual classrooms and telecommunication. So the underground headquarters became a necessity to give us credibility in the eyes of those who feel that a university is not a university unless you actually have a physical building somewhere as your headquarters. So we decided to establish a base and we looked at different locations, The Gambia seemed to be the most promising, so The Gambia was chosen. It was also convenient and Allah's will to select the vice chancellor from The Gambia in the person of Dr Cherno Barry.
The Point: What are some of the new initiatives or projects you intend to come up with?
Dr Bilal Philips: One of our big projects is providing for the Gambia College graduates an avenue to complete their undergraduate degrees. Instead of them having to go and do another four years of study, we are providing a means for them to complete it in two years. This has already passed through, it has been agreed upon and we are in the process of launching it. Another one is our partnership with the Ministry of Basic and Secondary Education to train madrasa graduates as teachers into the mainstream education.
Also, we have launched the 100 Scholarships Initiative to help support good students who cannot afford higher education. Some of them end up in the Mediterranean because of the lack of opportunity to continue higher education. So through this initiative, we reach out to these less privileged students. Next year, we hope to expand it to a thousand, if possible.
The Point: Can you tell us how the IOU has bridged barriers in making learning accessible to all regardless of age, distance or time?
Dr Bilal Philips: Well, of course in the case age, we have students in their 80s and as young as pre-teens studying with us, so we have no age barrier. We have students from one end of the spectrum to the other. In terms of location, people don't have to travel all the way to school you can study at the comfort of your home because it's online and that's why 50% of our students are women for the online programmes. And lastly, our online studies allow you to set your timetable according to your personal schedule. Whether you are a housewife, student, professional, etc, you can set a time for yourself that suits your studies. It has that high degree of flexibility.
The Point: Can you explain about your accreditation as an online university?
Dr Bilal Philips: In terms of our accreditation, we already have a license for operation from the Ministry of Higher Education by which our degrees are recognised. We are currently working on full accreditation for our university as a university of The Gambia. We also have accreditation from Somalia which is recognised as a country in the UN and that stands as our global accreditation but we are also looking into having The Gambia to be our main accrediting body because of the status of The Gambia in Africa.
The Point: Most Gambians have a problem of internet connectivity, especially those in rural areas. What framework do you have in place for students encountering such problems?
Dr Bilal Philips: We are currently working on a solution with an I.T company to make PC Tablets accessible to these students wherein study materials can be uploaded so that all they will need to do is just to charge their tablets and study. Another option is the hard drives where semester work will be uploaded. They only need to go online to do their tests. We also have free access to internet for all our students here in the center. And we want to enter into arrangement with the government to provide access to our students in their e-learning hubs countrywide.
The Point: What are some of the challenges you are facing?
Dr Bilal Philips: One of the main challenges we face is the frequent power outage. Another setback would be the slow pace at which the accreditation process is taking. And more importantly, many people think of us as being an 'Islamic university' but in reality as of 2014, we expanded into major areas like psychology, business administration, Information Technology, Islamic banking, etc.
The Point: As an institution contributing to the development of The Gambia, how would you like the new government to support you in your quest to continue in the capacity building of Gambians?
Dr Bilal Philips: That's a good point. I would like them to help facilitate and speed up our accreditation process. I would also want them to get sufficient finance to implement the madrasa bridge programme across the country. Also, the goal of universal education for all can be achieved through us because for every UTG student, bachelor's degree costs approximately $4000 whereas eight students can be enrolled at IOU on the same amount because we charge approximately only $500 for a whole degree programme. We could have more students enrolled at IOU at a much less cost. Therefore, the government can utilise this opportunity at IOU. Also, we encourage charitable organisations and individuals to provide scholarships in order to get more Gambians to have access to higher education.
The Point: What's your advice to the new graduating students?
Dr Bilal Philips: My general advice is for them to be focused on the real goals of their education. They should not only focus on the material benefits but also in terms of the societal benefits so that they can play greater impact and play important role in the Islamic future and civilisation of The Gambia.
The Point: As I conclude, I would like to ask a general question and that is: what do you think are some of the societal challenges of the Muslim Ummah today?
Dr Bilal Philips: The most serious challenge we face today is getting back to Islam. We call ourselves Muslims, we go for Hajj, fast and pray etc but then our Islam is still compartmentalised. We only have it in one corner of our life and the major part of our life doesn't involve Islam. Islam should be in everything. So the main problem is reintegrating Islam in all of the aspects of our lives. We have become splintered. Why can't we have that 'one Muslim nation' as it was in the past? The only way to do this is to bring Islam back to our lives practically not just verbally and to live it.
The Point: In April 2016, the Dabiq Magazine run by the notorious Terrorist group of Islamic State of Iraq and Syria (ISIS) listed your name together with other renowned Muslim scholars threatening to kill you for denouncing them. As a Canadian citizen, has your government offered you protection from these threats and are you worried about life?
Dr Bilal Philips: Firstly, yes in the Dabiq Magazine, my name was listed along with a number of other renowned Islamic scholars because, according to them, it is a religious obligation to kill us for speaking out against their extremist views and operations which totally contradicts the true teachings of Islam. When I was in Canada last year I was informed that my name had been put on the list but I was not offered any protection this is probably because Muslim lives don't really matter in the Western countries. On the contrary, Salman Rushdie, author of the 'Satanic Verses' which ridiculed and talked on horrible things about Islam and the prophet, the British government has spent tens of thousands of pound sterling to protect him because he was saying things which defamed Islam and denigrated the Prophet (SAW), cursing his wives. Such a person is protected in the West but for Muslims, no; they are in fact happy if they [Muslims] are eliminated.
The Point: What do you have to say to all your entire staff together with the vice chancellor, Dr Cherno Barry, who has been working tirelessly to ensure that there is landmark convocation annually?
Dr Bilal Philips: I commend them for their efforts as this is the 3rd graduation I have attended since we began in 2013 and Alhamdulillah it's progressively getting better and better. I heartily thank all of those who have been engaged and involved in the process. God willing, we hope to see even greater successful events in the future. I will be given a series of lectures on Ayatulkursy at Minaa Mosque, and a couple of other lectures as well at the Supreme Islamic Council.
The Point: What are your last words to the general public?
Dr Bilal Philips: We need to work together as Allah has given us opportunity to more freely express ourselves to work for the Islamic goals as a Muslim society.
Read Other Articles In Article (Archive)