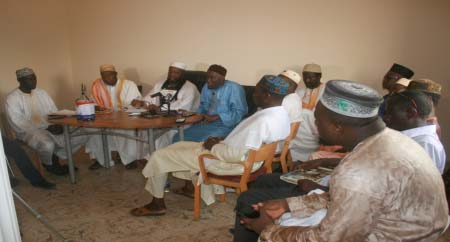 Members of Majmou'atu Rawdatil Majaalis have countered the recent press release issued by Gambia Supreme Islamic Council (GSIC), arguing that the Majaalis leaders some of whom are now late, formed GSIC in 1992.

The Supreme Islamic Council claimed in their press release issued last October that the unilateral decision from Rawdatul Majaalis was a violation to the Council's constitution and should not be encouraged.
"Rawdatul Majalis is not a registered organization to the GSIC and clearly cannot claim to contest for any position in the affairs of Council," they said in the release.
But in response to the claim, spokesperson of Rawdatul Majalis, Alhaji Abubacarr Jabbi said
The Gambia is a country of law and the Majaalists have great respect for the law. He said the government has to decide either to take the matter to court or provide a solution to it, saying GSIC is not respecting the law and the Islamic Ummah.
Mr Jabbie said to clear the issue, they have submitted several proposals to GSIC to remind them that the term of office of the executive ended some months ago and they are now demanding for electoral reforms, congress and a conduct of election based on transparency and fair play, but they refused.
He explained that per their letters to GSIC, they also reminded them that there are 1873 villages in the country, and each village has Imam Ratib who is qualified to be part of the electoral process and vote for the leadership of their choice to lead the Gambia Supreme Islamic Council, yet they still refused to reply to them.
Mr Jabbi said as an association that respects law and order of the land, they decided to write to President Adama Barrow's religious affairs adviser, Dembo Bojang (Dembo by force) and to all relevant authorities, including Minister of Religion Affairs, SIS, Ministry of Justice and National Assembly, on the issue.
He said to their dismay, GSIC replied and wrote in their letter that "who were they" and that had made them to wonder who they were, too.
Collectively, the Rawdatul Majliss defended the appointment of their selected leader, Alhaji Sheriff Muhammad Sanusi Nano Hydara, who is to serve as the President of the Gambia Supreme Islamic Council.
The PRO explained that on October 12, at the organized Majmou'atu Rawdatil Majaalis special prayer held at Semega Janneh Hall, Alhaji Sheriff Muhammad Sanusi Nano Hydara was selected by heads of Majaalist houses across the country to be their new Supreme Islamic Council President.
"There, we were tasked to tour the country and present him to the Islamic Ummah," he said, saying that was because Mamadou Lamin Touray, who is by now, the former president of Gambia Supreme Islamic Council, had served for ten years and his term in office ended some months back.
Mr Jabbi slammed the GSIC for claiming to be a non-governmental organization in their press release but could not fight for the release of any of the Muslim members when they were arrested. "Imams in the likes of Bakawsu Fofana, Baba Leigh, Ousman Sawaneh, Sheriff Muhideen Hydara of Darsilameh Sangajor in Foni, Alhaji Karamo Touray from Brikama, and other Imams were arrested in this country and GSIC did nothing to help them."
He said it is the Supreme Islamic Council's responsibility to know the reasons for their arrest and make efforts for their release but they did not do that.
Read Other Articles In Article (Archive)