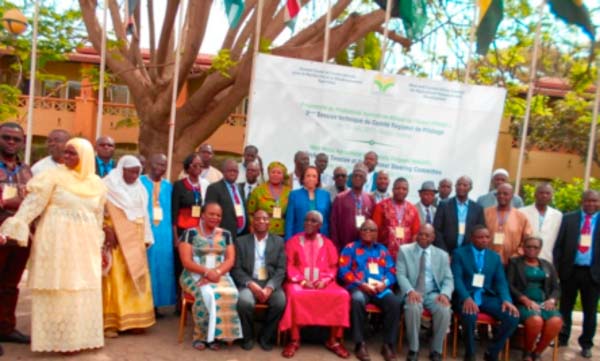 A three-day forum of West African Agricultural Productivity Programme (WAAPP) 3rd technical regional steering committee ended recently at the Kairaba Beach Hotel in Banjul.

The sub regional meeting which brought together participants from various ECOWAS member states was organized by CORAF and hosted by the Ministry of Agriculture through the Central Project Coordinating Unit (CPCU).
In delivering a speech, the permanent secretary at the Ministry of Agriculture, Sait Drammeh, said the West Africa Agricultural Productivity Programme (WAAAP) is a regional programme implemented by 13 ECOWAS countries with the possibility of including new ones.
According to him, at the 9th regional steering committee meeting held in Nigeria in November 2016, The Gambia was selected, and unanimously supported by member countries to host the 3rd technical meeting of regional steering committee.
He disclosed that the Government of The Gambia through the Ministries of Agriculture and Finance and Economic Affairs would submit an expression of interest to the World Bank through CORAF/WECARD to be included in the planned second phases of WAAPP to be referred to as West Africa Agricultural Transformation Programme.
The Government of The Gambia would like to thank CORAF/WECARD and ECOWAS for the continued support towards its national agricultural development agenda and called for further strengthening of the existing collaboration.
In his statement, the Minister of Agriculture, Hon. Omar Jallow, said the implementation of the 1st WAAPP has enabled the generation and dissemination of improved technologies of 30 per cent increase for cereals and 20 per cent for roots and tubers.
The system of rice intensification research infrastructure and human capacity have been augmented and strengthened, he said.
He disclosed that national centers of specialisation and regional centers of excellence have been established, adding that it has harmonized seed system for West Africa that has enabled cross border improve seed trade to take shape.
However, he added that, west and central Africa were still facing important challenges with respect to providing adequate food for a growing urban population.
The climate change phenomenon which threatens to undermine sustainability of gains made by WAAPP added to the aforementioned makes it more complicated.
He pointed out that this particular steering committee technical session comes at a very important turning point for CORAF and ECOWAS in partnership with the World Bank.
The proposed transition from a production and productivity approach to a more holistic West Africa Agricultural Transformation programme would enable the next phase of the project to address the challenges along the agricultural value chain and consolidate the emerging market linkages opened up in the first phase of the project.
Read Other Articles In Article (Archive)