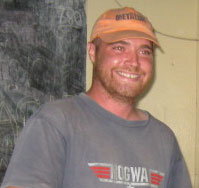 After a 19 month stint as a proof reader with The Point, VSO volunteer Cian O Siochian, alias Musa Saine, yesterday departed The Gambia having completed his time in the country. The Irish journalist expressed great sadness that his time was coming to an end and told The Point, "my time at The Point has been both enriching and fulfilling. I have had the privilege of working with some of the finest journalists I have met in my career thus far. The passion and dedication of the staff are truly inspiring."
Musa had particular praise for the Managing Director and editor of The Point, Mr Pap Saine whom he described as "a friend, father figure and inspiration." Asked what he saw as the constraints facing Gambian journalists Musa lamented the lack of an official university training course for those wishing to study journalism. "I really wish that there will soon be an opportunity for young people wishing to study journalism to do so at an official course run by the University of The Gambia. I especially wish that this will come to pass having met some of the doctors who have come through the medical school and being so very impressed by the excellence of the training they received from the institution."
Musa Saine stressed the importance of a free press stating, "a free press is a vital part of every democratic and successful society. I feel deeply honoured to have been born in Ireland where freedom of the press is so highly valued but am concerned at steps by our government there to reduce press freedom in recent times. It is something I will be very engaged with when I get home."
The Managing Editor of The Point, Mr Pap Saine, praised the contribution Musa has made to the paper since he began volunteering there over a year and a half ago saying, "Musa has done a lot of good work for The Point and has helped us greatly. We very much appreciate the work he has done for the betterment of the paper."
Other staff members of The Point also expressed their sadness at Musa's departure but said they are looking forward to a return visit from the volunteer which, Musa assured them, will happen, "if I can find a job in Europe where the economic crisis has left many people unemployed."
Read Other Articles In Article (Archive)