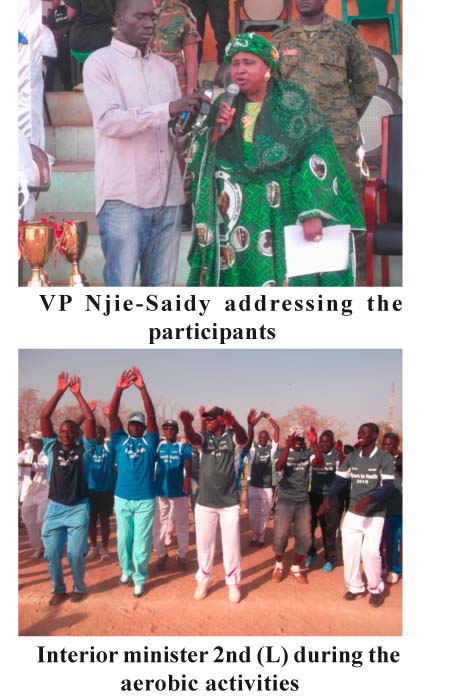 (Issue, Monday 30 March 2015)
The Vice President, Isatou Njie-Saidy, has reiterated the need for continuing physical exercise which could lead to a healthy and fir body, and that a healthy mind can only be lived a healthy body.
VP Njie-Saidy was speaking on Friday at the opening of the 2015 Sports for Health event held at the Serrekunda West mini stadium. She urged institutional participants to be active, as this could help to achieve the country's development objectives.
The  2015 Sports for Health began with a match past from the Churchill's Town, led by the Vice President as an inspiration and an example on the significance of the day and its activities to the whole nation.
Speaking on behalf of the President, who is a strong advocate of physical activity, health and well-being, she said "we need a healthy and active populace in all sectors of our lives. This is the reason why Sports for Health is very important. I encourage all of you to resolve to continue to live active and healthy lifestyles, after the three days that you will be here."
She further appealed to participants to draw inspiration from the event, and to discard any attitudes of a sedentary lifestyle and adopt regular exercise.
She thanked the ministers for their collaboration and commitment to make the event an annual affair, and the WHO for their support.
Youth and Sports Minister Alieu Kebba Jammeh said being physically active opens up many opportunities for general well-being in all directions, adding that it is only with an active and healthy populace that they can collectively as people reach the destination they want for themselves.
The event's National Organizing Committee chairman, Lamin King Colley, said it has been confirmed that physical inactivity is now the fourth risk factors for global mortality, and that levels are rising in many countries, with major implications for increase in the prevalence of non-communicable diseases and the general health of the population worldwide. 
Read Other Articles In Article (Archive)