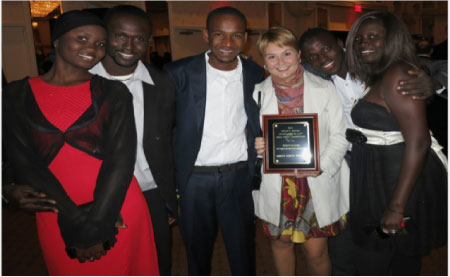 The University of The Gambia Law Faculty on 7 May 2012 held a press conference to share with the media information about the recently concluded Jessup Moot Court competition, held at Washington DC in USA.
Heather Keachie, the coach of the Gambian team, said that on 3 May 2012, a team of Gambian law students returned from their first-ever trip to the USA, saying they represented the UTG faculty of law at the Philip C. Jessup International Law Moot Court competition, which was the largest and most prestigious law school mooting competition in the world.
She further stated that teams from more that 80 countries came to Washington DC and competed against each other in vigorous and challenging debates.
She also said the programme was the first time the Gambian team had attended but "it will not be the last".
The Gambian team, accompanied by Heather Keachie, includes the following five third year old law students: Sukai Bangura, Babucarr Drammeh, Patrick Gomez, Banjugu Nyangado, and Ya Amie Touray.
For her part, Ms Keachie said the team was successful at the competition and they were awarded the best new team of 2012, which is an award given to the best of those teams who have competed for the first time in the last three years, adding that Sukai Bangura was one of the top 100 orals of the competition.
Dr Abubacarr Senghore of the Dean of Faculty of Law, said that one of the achievements of the new administration is the mooting of programme which deals with the practical aspect of the faculty.
He also said the Faculty of Law has won three major awards with prospects of doing better.
He stated that the application was open to all the students, noting that they have to undergo some scrutiny exercise for which they invited human right experts, and the students will display their talents in front of them to choose the best of them to represent the UTG.
Dr Senghore also spoke on some of the achievements of the vice chancellor of the UTG, which include the completion of integration of the MDI and faculty of Law premises into one campus called the Kanifing Campus; introduction of new academic programmes that represent the applied nature of the faculty's degree / LLB programme such as clinical legal education aid clinic, moot and trial advocacy and the law review workshop.
In his remarks on the occasion, Alkali Dibba, student union leader, advised the students that opportunities are there to tap but it all depends on one's effort.
He thanked the mooting team for the amazing performance, saying the team was determined to do it and they did it.
Together, the students can make the UTG proud by participating successfully, he said, adding that the few brains that took part will be awarded a full year scholarship to commend their efforts.
He also said a young university will only prosper if they learn from the existing ones.
Read Other Articles In Article (Archive)