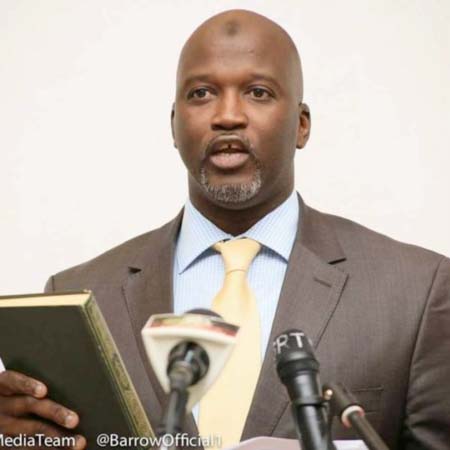 The newly sworn-in Minister of Justice, Aboubacarr Marie Tambedou, has said someone has been identified as Chief Justice and that, hopefully, by the end of next week The Gambia will have a new Chief Justice.

"Today is my first full day in the office, and it is a priority for the Government to ensure that the justice system works appropriately," he said.
Speaking in an interview with this reporter at his office yesterday, Justice Minister Tambedou said it is important to appoint a Chief Justice, and "someone has already been identified and, hopefully, by the end of next week a Chief Justice will be appointed."
On appointing judges, Minister Tambedou said he wanted to ensure there is total independence of the Judiciary to give a free hand to judges to discharge their responsibility based on the the dictates of the law.
"A new Chief Justice will be appointed, and it will be his responsibility to look at the needs of the judiciary. The ministry of Justice is the ministry line for the judiciary in terms of budget provisions, but the responsibility to identify, appoint or deal with any issues relating to judges will be that of the Chief Justice," he added.
He said the President under the constitution has the power to appoint judges, but in terms of directing the affairs of the judiciary that would be the responsibility of the Chief Justice.
"The President is still the appointing authority for judges in the country, but it is only done in consultation with the Judicial Service Commission."
On Gambia's withdrawal from the International Criminal Court (ICC), he said the President had made a public commitment to restore the Gambia's membership.
"In fact, The Gambia is not even out of the ICC yet because the process was just initiated, and the President had given instructions for The Gambia to retain its membership of the ICC."
"The Ministry of Foreign Affairs is working on that and, very soon, this will be made public when The Gambia withdraws its notice of withdrawal from the ICC called the withdrawal letter."
He added: "The Gambia is committed to the principles enshrined in the Rome Statute of the International Criminal Court, and we re-affirm our commitment in the ICC."
On convicts appointed in the new cabinet, the Justice Minister said the President had already pardoned a number of appointees to the cabinet by proclamation, and it had been gazzetted and published.
"I will be initiating a review of all pending criminal cases against all persons who are perceived to belong to a political party, with a view to taking a position either at first instance or appeal. That will be initiated. There will be a review and our views will be based on the assessment of the case file," he said.
Read Other Articles In Article (Archive)