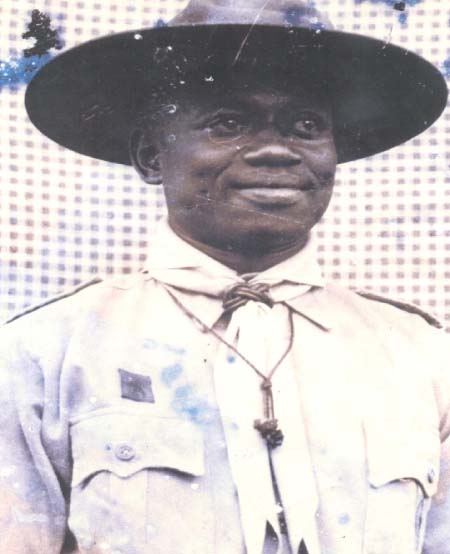 The trainer and mentor was laid to rest at the Old Jeswang Cemetery on Saturday the 2nd of April 2011 far away from where Pa Ebrima Joof and Ya Anna Samba are quietly resting at Warragi Banjul near Mile 2.
Scout Master (SM) as he was fondly called was born to these two illustrious couple at Half Die in 1924 before the yellow fever outbreak in that district which warranted the mass felling of cotton trees in Banjul. Little did Ya Anna and Pa Ebou know that they were blessed with a son who was going to serve the world and his nation in particular with admirable gusto consciousness and enthusiasm in all faets of development and advancement.
Babel, as we also used to call him was trained by a disciplinarian and highly respectable uncle Pa Alieu Njie (Ndapu) the father of Alhaji Abu Dandeh Njie at Victoria Embankment before that area was taken over in 1941/1942 by the British Royal Air Force to build a hanger to accommodate their amphibious aeroplanes. Pa Ndapa bought a house at 7 Allen Street where he moved with SM and gave him a prominent and accessible place which later became the meeting place of successive generations of young aspiring Gambians.
Alhaji Cham Joof did his Quranic Education under the tutelage of Seringe Modou Nyan at Half Die. This was to benefit him later in life as a prominent elder in the Gambian Muslim society and senior member of the central mosque committee. He also attended the St Mary's Primary and St Augustine High Schools. There is no doubt that during his scholastic career SM must have conceived in his mind what he was planning to do later in life and prepared himself towards it. During this period he enrolled in the scouts movement and played football in which he demonstrated himself as a brilliant Goalkeeper. He was nicknamed CHAM DOLLEH because of the way he used hold and  kick the ball.
Alieu Cham Joof was a man of all seasons, versatile and resourceful. He was a scout, commercial entrepreneur, writer, politician, trade unionist, historian just to name a few of his areas of involvement. Woundering about the village school master as to how such vast knowledge could fit into such a tiny head one would also wounder how Cham Joof was able to fit in all those multifarious chores and undertakings. The life of a man is not judged by how long he has lived but what he was able to achieved. Cham has left his foot prints on the paths he has gone through.
Robert Baden Pawell the founder of Boys Scouts said "The Scout's motto is founded on my initials, it is BE PREPARED, which means you are always to be in a state of readiness in mind and body to do your duty." it seems that this is referring to SM as he was always prepared to serve others.
In all his pursuits and involvements SM was more distinguished and recognized in his connections with the Scouts movement. He rose through the ranks from a Scout to Scouter, Rover, Commissioner, Deputy Chief Scout (The president is always the chief scout). He led contingent of Scouts to many international Jamborees including Katibugu in Mali and Sutton Coalfields near Birmingham, England 1957. He was dubbed with the designation as Scout Roving Ambassador due to the frequent and multiple times he was representing the country in activities outside The Gambia. Conscious of the fact that a certain group among the community needed encouragement to join the Scouts movement he founded the Fifth Bathurst Troop in the early fifties. This troop brought synergy, enthusiasm and vigour into the movement. The fact that fifty percent of the contingent to the world Jamboree at Sutton Coalfields came from his founded troop is a clear testimony.
With the realization that to be a leader one must agree to be led, SM showed true allegiance to the illustrious and indefatigable stalwart B.O. Semega Janneh, Aki Gibbs and Master E.W. Eunson. Their combined drilling, inculcation, and instilling of ideas and concepts resulted in the emergence of an outstanding leader, organizer and administrator.
An exemplary characteristic in SM was his hospitable quality. His house at 7 Allen Street was the meeting place, the free for all were one could help himself with anything. It was Katibugou Rende Vous. SM it must be said was also lucky to have extremely accommodating Aunt Ya Oumie Sowe and Uncle Alieu Ndapu and other members of the family who never showed any sign of resentment in spite of the never ending interruptions to their privacy.
The songs, lyrics and plays composed and written by SM will forever continue to be enjoyed by generations of Scouts. They include Fort Bullen, Balla Wooyay, Amikolleh and Kailen Nuanda. The songs he composed for the Gambian contingent at the opening ceremony at Sutton Coalfields Jamboree received standing ovation from the audience. The limited space we have to pay homage, show recognition and glorify his achievements would not allow us to exhaust the narration of the seventy years of exemplary services in scouting. We will accord SM the traditional way of telling a scout that he has done a good job
            GABBALAYO - WAY
            GABBALAYO - WAY
            WATTINI - WAA
Behind every successful man there is a woman giving necessary support. Alhaji A.E. Cham Joof was no exemption to this truism. Aji Katty and Aji Yamundow were the pillars of support in every aspect of Cham's life. They have beautiful children who are extremely proud of their versatile illustrious father. His love and tender care for other children was expressed by his nephew Abu Dandeh at the mosque during his funeral prayers. In the same venue Alhaji A.A. Faal also expounded on the active role he played with Alhaji Kama Badjie in founding and establishing the Renaissance club which served as a beacon to all aspiring young Muslims. In Islam and for that matter in all the religions love and care for the young are enshrined tenets. Cham demonstrated his belief on this.
Attributes on A.E. Cham Joof will not be completed if his deep, profound and extensive participation in The Gambia Labour Union Movement is not touched upon or acknowledged. His tutelage under E.F. Small and I.M. Garba Jahumpa also applies. He collaborated with M.E. Jallow, B.B. Kebbeh, M.M. Ceesay and many other patriotic trade unionists to seek and advocate for rights and privileges of the working class. He was one of the organizers of the Bread and Butter demonstration in Banjul.
It is surprising how Cham was able to apportion his time to concentrate on all those valuable services he was rendering. He spent over three decades in the commercial sector with C.F.A.O where he worked with Monsieur Goddin, Berge, and Quebbe who respectively served as managers. Pa Cherry and Cham were the confidents of the company's top management.
Cham Joof was a historian, an avid writer and reader. He wrote many books and scores of publication. Among his books are the History of Scouting in The Gambia, the History of Half Die in Banjul and the Wollofs of Senegambia. Being a renown play writer and knowledgeable on Gambian folklore, the media took advantage of this and he never had a dull moment due to consultancy services and the commendable work he was doing for the Gambia Radio and Television Services since its conception.
Live a good and decent life as if you will not die, and in the same vein, worship your creator as if you will die tomorrow. These are prophetic guidance enjoining mankind to strive for heaven on earth and paradise thereafter.
When Chams corpse was laid at the Fahard Mosque for Funeral prayers Alhaji Yusupha Mboob eloquently dilated on his natural disposition and the services he rendered to the communities. He was a devout Muslim who build a Mosque at Albion place and attach to it a Quranic school. He was a member of the Central mosque committee in which he was a regular worshiper.
Life is but a walking shadow a poor player that struts and frets his hour on the stage and is heard no more. It is a tale told by and idiot full of sound and fury signifying nothing. Shakespeare is reminding us that the end must come sooner or later. He also said that the world is a stage and we are all actors. When the curtains are drawn it is left to see what sort of ovation and applause the actor deserves.
The acclamations and panegyric bestowed on Cham at his funeral prayer were enough, as they said it all.
May his soul rest in perfect peace.
Read Other Articles In Article (Archive)