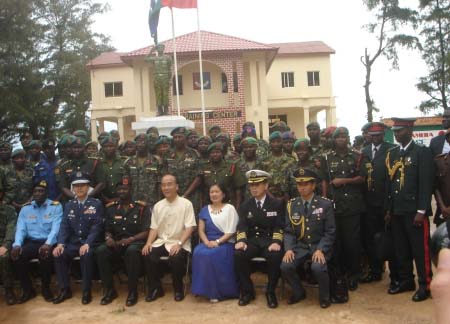 An eight-week intelligence training course for personnel of the Gambia Armed Forces (GAF) kicked off yesterday at the GAF Training Centre in Bakau.
The training, provided by the Republic of China on Taiwan, is being attended by seventy-five officers.
Speaking on the occasion, ROC Ambassador Samuel Chen said the programme was a brainchild of President Yahya Jammeh."My government fully supports the programme and has sent three instructors for the training," he said.
According to him, during the course of the training 25 participants will be dropped along the way and the remaining best 50 will progress to an advanced level.
He told the gathering that modern day army troops need to be well trained, since it is an indispensable element of loyalty, discipline, efficiency and intelligence, in order to be successful.
Speaking on the opening of the GAF Training Centre, where the ceremony was held, Ambassador Chen said it was a pleasure for his government to rehabilitate the centre.
The facility, yet to be formally handed over to GAF, is equipped with more training facilities which he believes could be used by not only GAF but also other government sectors.
"I sincerely hope that it can be used to train officers and other civil servants for the sole purpose of the development of the human resource of The Gambia," he said.
For his part, CDS Lt. General Ousman Badgie, thanked the Taiwanese government through its embassy in Banjul for the intelligence training and other support being rendered to GAF and the country as a whole.
According to him, the training formed part of the military cooperation between The Gambia and Taiwan.
He said the training would help GAF in building it capacities in Army intelligence and help participants identify potential trouble spots and provide remedies as the shortest possible period of time.
He disclosed that intelligence training will be featured in the training cycle of GAF come next year. "Nations need maximum security to mobilize and harness their human and material resources for meaningful national development," remarked CDS Badgie. He spoke of his plans to lead a small but well trained, equipped and motivational army that can effectively and efficiently discharged its mandate to the satisfaction of all Gambians.
Also present at the opening ceremony yesterday were a high-ranking team of officials of the Taiwan Ministry of National Defense (MND) led by Major General Mike Chen, director of policy planning at MND.
The team includes Mrs Stephanie Ko, director of MND, captain Navy Chiu, Hui-Yuan, deputy director general of International Affairs of MND and Major Lee, Ping-Cheng, a Laison Officer.
Read Other Articles In Article (Archive)