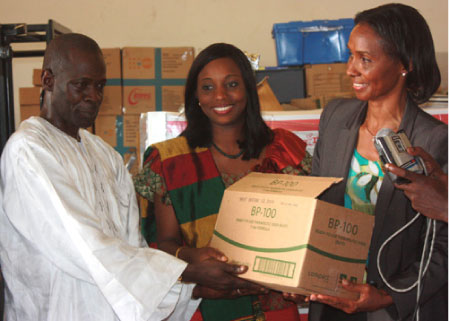 UNICEF last Friday donated food items to the government through National Nutrition Agency (NaNA) to scale up the response to the severe malnutrition, with focus on children under-five.
The donated commodities included 1051 cartons of BP 100, (Plumpy nut in table form) and 600 cartons plumpy nut (in spread form) both are ready to use therapeutic food (RUFT) to treat severe and acute malnutrition (SAM) in children for the period of 6 to 8 weeks.
The assistance was requested for by NaNA to be distributed, in partnership with the Ministry of Health and Social Welfare, through health and community-based programmes.
Speaking at the presentation ceremony held at the Central Medical Store in Kotu, Fatim Badjie, Minister of Health and Social Welfare, said it is an honour to receive a great contribution from UNICEF.
Minister Badjie said the president had earlier on declared food in security in The Gambia based on the crop failure season last year, whose repercussions might impact severely on the country's food security the following year.
"The Gambians and our partners are aware the government has been coordinating in every aspect donor assistance and also interventions that will really scale up a positive impact that we have facing at the moment which is the food insecurity," Minister Badjie said.
"Food in security happens in any country it is the role of the government and sectors that are concerned to ensure that the memorable aspects of the society are protected and in the area of health nutrition is a key element that is aversely affected by food in security and when we talk about malnourish it aversely affects children under the age of five and pregnant mothers," she said.
For her part, Aissatou Diawara, Unicef country representative, said UNICEF is very pleased to hand over commodities to the Government of The Gambia,  nothing that severe malnutrition is a leading cause to mortality as more children under five are most risk of malnutrition.
"We also know that as a result of crop failure more children under five will become memorable to severe malnutrition, this supply will really help families to take care of malnutrition children in 6 to 8 weeks these children will recover from malnutrition," he said.
Pa Momodou Phaal, executive director NaNA, said UNICEF once again fulfills their mandate and one of the mandates is to support children, nothing that the commodities are specific for children that are severely malnourished.
Mr Phaal told the gathering that they would work hard with their partner's Ministry of Health to ensure the distributed commodities reach their destinations before end of this week.
"A total of 966 severely malnourished children in all regions will benefit from this therapeutic food, and their nutritional status will be revised," he said, adding that Bansang hospital, RVTH and the CREN in Basse will receive a total of 60 boxes of the RTUTF, the remaining 625 boxes will be distributed when additional cases of malnutrition arise.
He said following the 6 to 8 weeks, on average treatment of nutritional rehabilitation, the majority of malnourished children on therapeutic feeding respond quickly with rapid weight gain, regardless of how severe their case of malnutrition is.
The recovery rate for severely malnourished children on home-based therapy is good, about 90%.
Read Other Articles In Article (Archive)