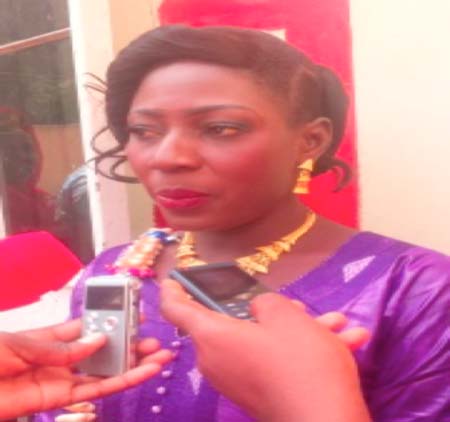 The United Democratic Party's (UDP) National Assembly candidate for the Tallinding constituency, Fatoumatta Jawara, has said if she is eventually elected to the National Assembly, together with like-minded colleagues, she would not allow laws that would suffocate Gambians.

She made this remark on Saturday, while speaking at a campaign rally held at Tallinding Farokono.
Mrs Jawara was among three women arrested, detained, tried and convicted for taking part in "an unauthorised protest" with the late Solo Sandeng, UDP's former youth mobiliser, and others at the Mansakonko High Court during the former regime.
She was released on bail together with her co-convicts when President Barrow was elected during the December 1st Presidential election, and eventually pardoned by the President.
The UDP candidate said they would not be parliamentarians that would be there only to support the president.
"It is true that we have the right to support our party, but we will not allow laws that will suffocate our people and we will not promise any president that we will pass such laws for you," she declared.
"Any president who comes to enslave people of this country: what will happen to that president will be more than what happened to the president of the former regime."
According to her, the National Assembly election is very important because it enables the electorates to elect someone who would be their voice.
"It is very important that when one is electing such a person, one should find out if that person can really represent them," Mrs Jawara said, adding that Gambia has gone past the stage of the politics of fooling people.
The people of Tallinding should know that the way UDP works is according to the party's constitution, and that is by telling each other the truth during meetings in chambers.
On her campaign promises, the UDP candidate said her constituency laments bad roads, but if she is elected into the National Assembly, Tallinding would talk about other issues, but not bad roads.
She said even the river between Tallinding and Banjul would be bridged so that commuters in Tallinding can use it to go to Banjul, and be free from struggling for vehicles to go to Banjul.
The UDP candidate said if the UDP is in the National Assembly, any funds to the Gambia government would not stop at the development of Tallinding alone.
"We will see to it that all the parliamentarians are helped to take development to their constituencies, because development should be brought back to the people," she said.
Other speakers and defectors from the APRC declared support for Mrs Jawara and the UDP party.
The youth leaders in Tallinding also voiced their support for her, and vowed to campaign and vote for her.
Read Other Articles In Article (Archive)