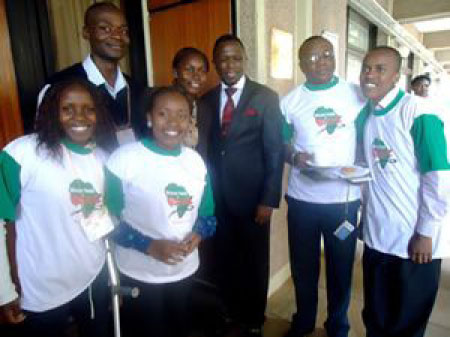 Young people from across Africa are meeting at United Nations headquarters in Africa to review the progress made towards achieving the Millennium Development Goals and discuss the future and plight of youth in the period post 2015.
The conference is hosted by the Organization of African Youth with the support of UN-Habitat, United Nations Development Programme (UNDP) and Pan African Climate Justice Alliance.  The conference seeks to address the role of young people in promoting youth led development towards achieving the MDG's; the priorities of African Youth in post 2015 Agenda and the African countries' commitments towards creating decent jobs and reducing youth employment.
In his opening remarks Mr. Ababu Namwambi, the Minister of Youth Affairs and sports, noted that the continent hadn't made adequate progress towards meeting the MDGs by the target date of 2015.  He called on policy makers to re-examine the strategies put in place towards achieving the goals and reiterated the need for youth inclusion in the consultative processes leading up to 2015.  The minister suggested that youth issues such as employment, access to quality education, adolescent health are integrated into the post 2015 discourse.  He further pointed out the importance of involving youth in the process because when they are given a voice, they can drive change and when they are engaged, informed, and empowered, they can advocate for themselves and create solutions that create better communities.
In her address, Ms. Maria Threase Keating, the UNDP Country Director, called on the participants to share their experiences and draw up possible synergies across countries towards post 2015 agenda.  Ms. Threase noted that globally many governments are faced with a number of youth challenges including high unemployment rates, which is a source of great concern to all governments. She encouraged governments, learning institutions, non governmental organizations; youth led organizations and the private sector   to develop strategies that reduce the mismatch between higher education and the labour markets requirements. 
Articulating UN-Habitat's position, Mr. Thomas Merlin, explained that focus of UN-Habitat is to have sustainable cities that are environmentally safe, socially inclusive and economically productive. He called on young people to get involved in the process by participating in web debates and e-Dialogues, organizing  and mobilizing  other young people, by influencing their governments and utilizing the media.
The conference focused on key issues that directly impact youth, including health, youth empowerment and employment, education, governance, peace , security, access to social justice and protection of minority and vulnerable groups climate change, environmental sustainability and food security.
Read Other Articles In Article (Archive)