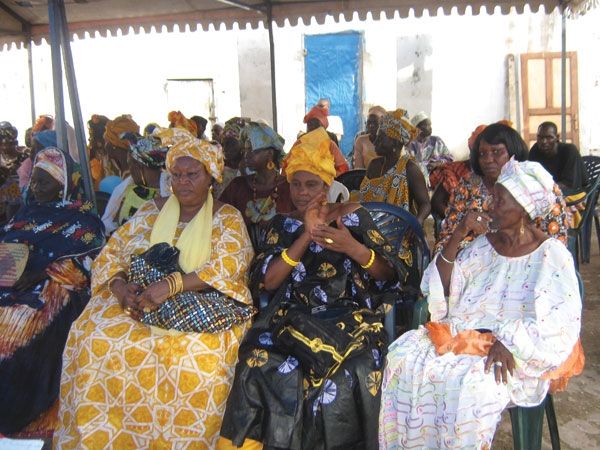 The opposition United Democratic Party (UDP) on Saturday inaugurated the party's new national women's wing executive committee at a ceremony held at its bureau in Banjul.
The move is part of the party's preparations for the presidential, parliamentary and local government elections scheduled for 2011 through 2013.
The 23-member women's wing committee comprises UDP women's regional representatives across the country, and is headed by Aja Sukaina Kah as president and Aji Yama Secka as secretary general.
Speaking at the inauguration ceremony, lawyer Ousainou Darboe, the UDP leader, said that 15 years ago nobody thought of seeing the party's women coming together to form their own women's wing without the involvement of the men.
He called on the UDP's women's wing to take part in national development, and to always have a dialogue with their womenfolk in other political parties to have a say in national-decision making.
"Forget about the past, and think of what is ahead of you. Make sure that all your people who attain the voting age are registered," Darboe urged the new women's wing executive committee members.
According to the UDP leader, the entire membership of the party across the country have full confidence in the new committee, singling out some women among them, whom he urged to take a leading role in getting more support for the party ahead of the next elections.
The opposition party leader challenged all the party's regional committees to do their work according to the laws of the Gambia, and to intensify their efforts so that they can get more UDP supporters on board.
Momodou L.K. Sanneh, the UDP National Assembly Member for Kiang West, who spoke on behalf of his fellow UDP National Assembly members, said politics in this country is in the hands of women, noting that the role of women in politics is of paramount importance.
"It is the women who came out in their large numbers and voted during the last elections," he said.
According to him, it is in the constitution of the Gambia that, every five years, people should go to the polls to elect their representatives, stressing that the 2011 presidential election is very significant for the UDP.
Alhagie Mustapha Joof of Banjul expressed his gratitude to the UDP women's wing for the step they have taken, describing it as a move in the right direction.
Aji Adama Jallow thanked the leadership of the UDP for the role they continue to play in the development process of the country.
She called on women representatives from other regions to encourage their people to cast their votes for the UDP in the coming elections.
Jonfolo Jabbi, UDP women's coordinator in the Upper River Region, declared: "The UDP is gaining popularity everyday in the URR, and come 2011, everything will be clear."
Read Other Articles In Article (Archive)