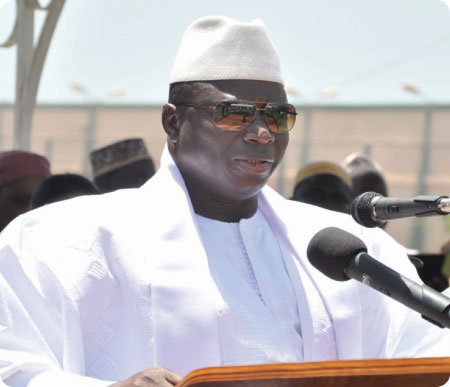 Gambia Friday celebrated the 17th anniversary of the July 22nd Revolution with calls by President Yahya Jammeh for Gambian youths to take full ownership of his government's achievements over the years, to enable them to adequately prepare themselves for the challenges of future leadership.
July 22nd, as the day has come to be called, was that fateful day in 1994 when some military officers led by the then Lieutenant Yahya A.J.J. Jammeh toppled the Progressive People's Party (PPP) government of Sir Dawda Kairaba Jawara in a bloodless military coup.
Under the theme "Mobilizing positive youth energy for enhanced national development," this 22nd July anniversary was seen by many as a moment of reflection on the achievements and shortcomings of the APRC government under the leadership of President Jammeh.
Addressing the turnout of thousands of Gambians and non-Gambians at Arch 22 grounds in Banjul to witness the parade of security forces, march-past of school children and procession of cultural and civic groups, President Jammeh said that it is important to note that the philosophy of our development process is, indeed, indigenous and sovereign in all deeds.
He stated that in spite of the numerous challenges, The Gambia today stands tall among the comity of nations as a shining example of a patriotic, determined, hardworking, peaceful and independent people.
"As the future bearers of our country's destiny, the youths must drive the opportunities and the conducive environment created by the July 22 Revolution in the forms of skills acquisition, higher education, employment, a thriving and friendly business environment, good governance, peace and stability to enable them to adequately prepare themselves for the challenges of leadership tomorrow," he said.
According to him, the essence of this year's theme is to assess the positive inclination of the youths against their negative orientation towards sustained and gradual socio-economic development of the country.
"The objectives of providing employment for the youths of The Gambia to enable them support the national efforts, as well as plan their own sustainable livelihoods and future security has always remained a central focus of my government's development agenda," Jammeh told the cheering gathering.
The Gambian leader further stated that it goes without saying that his government has always recognised the need to harness the inner talents and positive energies of the youth to further enhance the realization of their full potential, "in our collective drive to achieving our national development goals.
"In view of this, my government has emphasized development of human capital as a major pillar in our Programme for Accelerated Growth and Employment (PAGE). We remain steadfast in our commitment to deliver in this area," he said.
He underscored the fact that no nation can develop without its youth folk as they are the engine of national growth.
"You are the engine that will propel any country into greater prosperity. You are also the engine that can doom a country, and that is why we have chosen today, the word 'positive' energy. Youths have many different energies, but what we are interested in is as a nation is 'positive' energy," he stated.
The President told youths, especially those crossing the river in search of greener pastures, that those greener pastures did not fall from the sky.
"The greener pastures were created by youths of those countries. Why can't you create your own greener pastures?" he tasked Gambian youths.
Jammeh further stated that as a government, all they can do is to create the conducive environment for youths to be progressive citizens of the country. He added that the government cannot force the youths to be positive or contribute to national development.
He told the gathering that he is not a politician, but a nation-builder, and a servant of the people. "I will tell you what will benefit and not tell things that when we meet tomorrow, you look at my face and say 'look at him, he said he was going to do this and that and he didn't do it'" , he went on.
The Gambian leader also reiterated his government's earlier position on drugs and corruption, stressing that he will not compromise on drugs and corruption.
"Drugs we are not going to compromise; corruption we are not going to compromise. In fact, wherever you have drugs, you have corruption, you have guns and violence," he said, adding that this will not be tolerated in this country.
The ceremony was attended by the first lady Zainab Yahya Jammeh, Vice President Isatou Njie-Saidy, Aja Asombi Bojang, the mother of the President, Speaker of the National Assembly, cabinet ministers, among others.
Two new ferries commissioned
Meanwhile, as part of celebrations marking this year's 22nd July anniversary, the Vice President Isatou Njie-Saidy Saturday commissioned two new ferries, procured by the government.
Called "Aljamdu" and "Kansala" the ferries, expected to ply Banjul-Barra crossing points, were purchased by the Gambia government for 6,345,000 (Six Million, Three Hundred and Forty-Five Thousand) Euro.
Their operations, according to officials, are entrusted to a new management headed by an official of the Greek Firm Holding Ltd, which accounts for 55 percent of the shares of both ferries.
One of the ferries has a capacity for 78 vehicles and 1500 passengers, while the other is said to have a capacity for 90 vehicles and 1080 passengers.
Read Other Articles In Article (Archive)