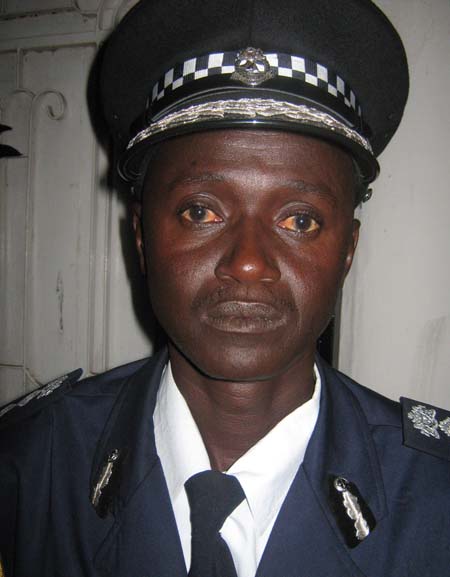 The robbery trial involving former Inspector General of Police, Ensa Badjie, and chief superintendent of prison, Ali Ceesay, was again adjourned yesterday after the ninth prosecution witness, Dodou Janneh, a murder convict, told the court that he was feeling dizzy, and could not give evidence.
Ex-police chief Ensa Badjie and chief superintendent Ali Ceesay are currently standing trial at the special criminal court in Banjul on various charges including conspiracy to commit a felony, robbery with violence, receiving stolen property, aiding and abetting, conspiracy to commit misdemeanor, aiding prisoner to escape, official corruption, conspiracy to defeat justice and interference with witnesses, deceiving witnesses, offences relating to judicial proceeding, and using criminal charms, among others. Both have denied the charges.
When the trial resumed before Justice Ikpala, both the defence counsel BS Touray and DDPP Mikailu Abdullahi announced their representation.
Justice Ikpala then asked the state witness whether he would be able to give evidence, and the witness responded: "I am dizzy my lord. When I talk my breathing stops, and I cannot talk."
Justice Ikpala then told the witness: "If you cannot talk, then what are you doing now; are you dancing or singing." However, the witness insisted that he could not talk.
The presiding judge then shouted at the prison officers, and said: "Why did you not take him to hospital, if he is sick." In response, one of the senior prison officers stood up and said: "My lord, we do give them medical attention whenever they are sick."
DDPP M. Abdullahi then stood up and applied for an adjournment, because his witness was not feeling well.
Justice Ikpala insisted that he must call his next witness, but the prosecutor craved the indulgence of the court to grant him an adjournment to enable him call his next witness.
Defence counsel Borry Touray did not object to the prosecution's application for an adjournment, and the case subsequently adjourned till today at 11:30 a.m.
Readers would recall that it was for the same reason of the ill health of a witness that the case was adjourned, at the last sitting.
The 9th witness Dodou Janneh alias Do Boy, a murder convict serving death sentence, is to continue his evidence in chief.
The other witnesses in the trial include the principal witness, Soriba Condeh said to be a convict serving a jail term, Pateh Jallow, the former deputy chief at the National Drug Enforcement Agency (NDEA), Muhammed Sillah, a police officer, Muhammed Darboe a convict, Tony Baba Khan, proprietor of City Pub Bar and Restaurant, Fatou Mendy, Amadou Jallow, and Salieu Baldeh another convict, among others.
Read Other Articles In Article (Archive)