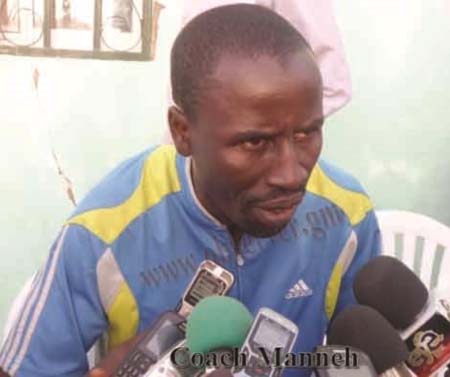 Two first-half goals from striker Madi Fatty were enough to earn the Gambia National U-20 team a 2-nil win over the Local National Team in a friendly played at the Box Bar Mini Stadium in Brikama on Wednesday 26 March 2014.
The Real De Banjul striker Madi Fatty opened the score-line for the U-20 in the 25th minute of the game from a fine finish after collecting a brilliant pass from club teammate Bubacarr Trawally. A minute before the break, Madi Fatty sealed the victory for Tapha Manneh's boys following Saikou Jawara's defending error to complete a brace in his name.
Speaking to reporters shortly after the encounter, Tapha Manneh, head coach of U-20, described the win as a good start for his side though they were thinking of a different result.
They thought their opponents would be more aggressive and prepared as far as football is concerned, he added, saying, as senior players (of the local national team), a lot is expected from them.
He described the game as a real test for his team because the team they played against has players of higher caliber and it was therefore a good try his boys were able to match them.
He said both teams have home-based players and are playing in the same league, noting that there was no much difference. The only difference will be when they have an international game, he said, adding that it is actually when they face a team outside The Gambia they will know the real image and form of the U-20. One of their priories for the past match was not to start with a loss so people would have confidence in the team, he stated, saying they wanted to win at all cost no matter which team they faced. They might use a different format against Casa Sport on Saturday, he highlighted, saying they will prepare themselves since Casa Sport is a big team in Senegal.
Casa Sport were coming to The Gambia playing with other teams, he observed, adding that there are people familiar with their format.
"We want to make sure we prepare ourselves for all test games not necessarily to win but to prepare well for our competition," he remarked.
Manneh, who was a fan when the team travelled to Congo Brazzaville in 2007 for the championship, stated that success is all about commitment.
"I was committed throughout and want to make sure I achieve something in football," he said, while thanking his mentors who helped him to achieve his goal.
"I want to continue to achieve more in future," he went on, saying he has been working a lot.
The local national team is a very good team, he said, adding that their only problem is they did not have enough time to prepare for the friendly as football is all about preparation.
Alagie Sarr, coach of the local national team, described the test game as good for the U-20, adding that his team only trained for 2 days prior to the friendly.
The local national team is a team to be considered for the future national team, he noted, saying they have to start preparing the team because if you look at their performance they need to be helped. He gave credit to the U-20 who, he said, are working very hard, with very good movement in the game both offensively and defensively.
The U-20 need to be encouraged and also provided with more test games, he went on.
Playing against Casa Sport is another level, he pointed out, saying playing against the local national team, who only trained for 2 days, was not enough.
He said the defensive side of the team should be worked on as they are very good on offensive but slow on defensive, and expressed his readiness to work with the coaching staff of the U-20 to help them solve the problems in the team.
If the problem of the team is solved he hopes to see the team in Senegal, he noted, saying building the U-20 with the inclusion of Ali Sowe, Hamza Barry and other foreign-based players qualify for Senegal 2015.
The National U-20 Team will play its first leg Preliminary Qualifier against Liberia on Sunday 6 April 2014 at the SKD Stadium in Monrovia.
Read Other Articles In Article (Archive)