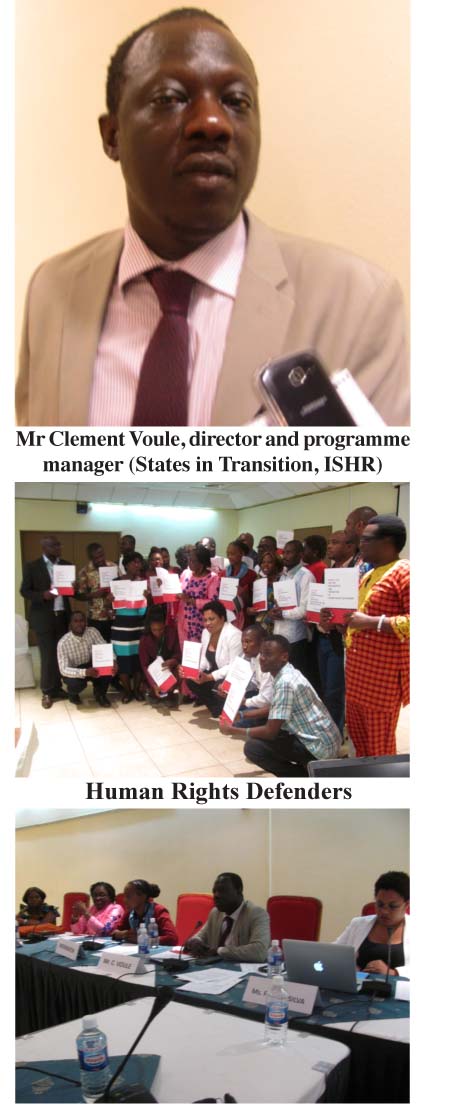 Human Rights Defenders in Africa and across the world have been protected with a set of laws catalogued in a document called 'Model Law for the Recognition and Protection of Human Rights Defenders'.

The law document was yesterday launched at the Kairaba Beach Hotel at a side event of the 59th Ordinary Session of the African Commission on Human and Peoples' Rights under way in The Gambia.
The law was launched at the African level to provide space for Human Rights Defenders (HRDs) from countries where the HRD protection law has been enacted or in the process of enactment, to share their experiences.
Defenders shared their West African experiences and lessons learnt of on-going initiatives of national protection laws.
The Ivorian case was featured on how women HRDs are also protected in their law.
Defenders from other countries like Swaziland and the Democratic Republic of Congo also shared their experiences, followed by comments and questions from defenders from other countries like South Africa, Tanzania, Uganda, among others.
Speakers and panellists at the launching included Commissioner Reine Alapini-Gonsav, Special Rapporteur on Human Rights Defenders; Ms Marthe Pedan Coullibaly of Coalition Ivorianne des Defenders des Droits Humains (CIDDH), Mr Wodjo Fini Traore, Vice President of National Human Rights Commission of Cote d'Ivoire (CNDHCI); Ms Mary Pais da Silva, Assistant Legal Adviser of Africa Programme International Commission of Justice, and Mr Clement Voule, African Advocacy director and programme manager (States in Transition, ISHR).
Speaking to the media after the launching, Mr Clement Voule of ISHR, one of the authors of the document, said that as the African Union celebrates the year of human rights – with a particular focus on women's rights – it is pertinent to recognise that legal recognition and protection of HRDs is a key element contributing to a safe and enabling environment for their work.
He said: "In order to encourage States to enact national laws in line with the declaration on HRDs, a national Model Law for the promotion and protection of HRDs was developed in consultation with over 500 defenders and endorsed by 27 of the world's leading human rights experts.
"It provides authoritative technical guidance to policymakers and legislators and is a powerful advocacy and accountability tool for advocates."
The Model Law recognises and protects the safety and rights of such defenders as human rights advocates, human rights activists, legal practitioners and justice operators, judicial representatives, journalists and media persons or workers, trade unionists, social workers, and health workers.
Read Other Articles In Article (Archive)