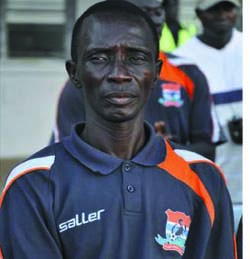 Lamin Sarr, head coach of the Gambia U- 20 team that were defeated 4-0 by Morocco in the first leg of the qualifiers played last Friday at Morocco, has attributed the team's heavy defeat to poor preparation and lack of motivation.
Sarr, who was speaking to reporters in an interview at the GFA Secretariat yesterday, Tuesday said they were just taken to camp and dumped, with inadequate needs, saying "To get enough water to drink was even a problem."
The performance in Morocco was very poor, he said, adding that he was really disappointed with the performance of the team.
He said he went to Morocco with options (to win or to have a draw) but things did not work in that way and were defeated very seriously.
Since he started coaching at this level, he noted, the loss to Morocco was the first heavy defeat he had ever encountered.
It was Mbye Gaye, one of their logistic officers, who was responsible for purchasing at least one or two packets of drinking water daily for them (28 people) in camp, "which was very minimal".
"Their was serious lack of motivation but as an employee of the GFA working under directives and that if I am given instructions at any given time I should honor the instructions given to me by my authorities," he said, adding that that was what he did by taking the responsibility to coach the U-20.
Asked whether the absence of Hamza Barry and Buba Jallow, alias Meles, who were dropped from the team, was felt, he said those players  were not part of the team but that, what he can say is Hamza Barry was invited but he never turned up and that Buba Jallow was not part of the invited players.
No Allowance no training
He stated that, the situation that is going on now is no allowance no training, and no return leg because the information they received in Morocco from their logistic officer, Mbye Gaye, was that they have paid their allowances and the money was in the hands of the technical director but that upon their arrival the technical director told them the information was untrue.
"The technical director told us that he never received money on behalf of the boys from Mbye Gaye, he said, noting: The players are telling him that they need their money."
He said they were told the day they were leaving (Monday 23rd July) that banks were not operating because it was a public holiday.
That was how they left with the promise that the money will be paid upon their return from Morocco.
He added that when they reached, Mbye Gaye communicated to Malang Jassey in his presence giving him (Jassey) the impression that the money will be handed over to Musa Njie (Technical Director).
Sarr added that they were initially told by Mbye Gaye that the money will be available on Monday but later informed them that it would be available on Tuesday at 2pm and that was why they were at the GFA Secretariat.
Selected good players
He selected quality players he felt could play, he said, adding that it is not necessarily that they are not good players but because some of them it was their first time to play in such competition.
He noted that their plan was to even start training today Wednesday but it would not be possible based on the fact that their allowance yet to be paid.
He said he could compel most of the players because they earn their living through football, and that he is in line with them.
He said he had clearly noticed in the players that they would refuse to play in the return leg if they are not paid their allowances.
He said motivation does not have to mean money all the time but it also lies in seeing the authorities who should be there to encourage them.
The reception in Morocco was excellent, he added, saying that all the requirements of a team were provided for them.
Read Other Articles In Article (Archive)