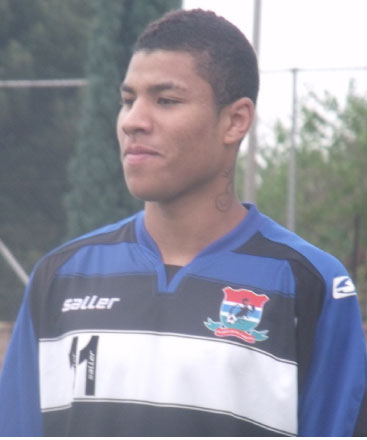 Gambian teenage sensational Momodou Kabba Cham says he is extremely delighted to make his first-ever championship appearance for the Gambia national U-20 team in the 17th edition of Caf African Under-20 Youth Championship currently gathering pace in Johannesburg, South Africa.
Cham, who could not hide his disappointment for being left out of the Gambia's opening two games against Cameroon and Ghana, said appearing in such a high-profile competition like the Caf U-20 tournament is indeed a dream come true for a player of his young age.
The Belgian-born Gambian national, who started his career at the age of eight in a lower league in Belgium Sparta, says he has high expectations for the Gambian side of going as far as possible although got stuck at a disappointing campaign in South Africa, but refused to be drawn into a question as to whether the team's performance impressed him. "You cannot describe The Gambia's performance as poor although the results were disappointing but the performance has been impressive even though we lost our opening game against Cameroon which could have been at least a goalless draw."
Kabba, who was handed his first start for the Darling Scorpions during their 2-nil defeat at the hands of The flying Eagles of Nigeria at the Milpark Stadium in Johannesburg last Sunday, also joined a host of his teammates to blame a long and miserable 17-hour journey to South Africa less than 24 hrs before The Gambia's opener with Cameroon.
"I think fatigue did take its toll on the performance of the team during the opening match because travelling from Banjul to South Africa via Ghana and Nairobi, Kenya, was a hectic and difficult route for a team that is playing less than 24 hrs in an international tournament," he complained.
The 18-year-old forward, who spoke to this reporter in an interview barely six hours after failing to guide the Gambia U-20 team to the semi-final stage of the Caf African Youth tournament, is attracting interest from the Belgian U-20 team but he is yet to decide on his future.
"I am being linked with a move to the Belgian Under-20 team who have recently shown their interest in me but as I am speaking to you, I have not yet decided whether to continue playing for The Gambia or to look for a new challenge," added the teenage sensational, who replaced Major League soccer pace forward Omar Jassey a day the team left the shores of the country for the championship.
Cham has not regretted his decision to represent The Gambia in the Youth Championship but has however refused to commit his future to the team for a lengthy spell.
Read Other Articles In Article (Archive)