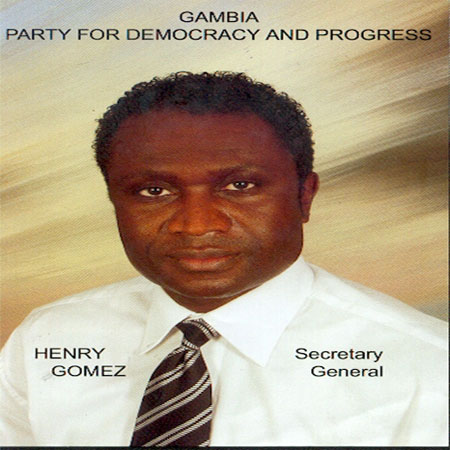 "We need change, and we are here to change the political system in this country. The APRC has been ruling for 16 years now, and I think Africa as a whole should consider changing our political situation, and make sure that no leader sits for more than two terms. Two terms is enough for every leader", declared Gambian opposition leader Henry Gomez, in an exclusive interview with The Point.
His comments came as the race to the 2011 presidential election inches closer.
Henry Gomez, who is the party leader and Secretary General of the Gambia Party for Democracy and Progress (GPDP), Monday also announced that his party would contest the election.
The GPDP is also set to contest in the 2012 National Assembly polls, and the Local Government Election in 2013, Gomez told this reporter.
Gomez was denied the chance to contest in the 2006 presidential election, after his nomination was rejected by the Independent Electoral Commission, on the grounds that he was not permanently resident in the country, for a specified period of time, as required by the Election Decree.
In this interview, the GPDP spoke on a number of issues.
These ranged from his party's preparations ahead of the 2011 polls, the GPDP agenda for 2011, possibilities of an alliance ahead of the polls, reaction to APRC National Mobiliser's remarks on the opposition, to the much-talked about situation in Ivory Coast.
According to the GPDP leader, it is too early to speak and answer certain questions, noting that his party is open for dialogue as it believes in the principles of democracy, and will continue to stand by those principles.
Gomez, usually based abroad, also told our reporter that he accepted in good faith, the decision of the IEC to reject his nomination in the 2006 election, but warned that he "will contest the 2011 polls and nobody would dear say that I have not been living in this country".
The IEC is even aware that Gomez is in town since the 2006 elections and, in fact, people are aware," the GPDP leader stated.
What follows are the views of the GPDP leader:
On 2011 Election
It is too early to speak, and answer to certain journalistic questions because, as I always say, since 2006, and I will repeat it, GPDP is open for dialogue. We at GPDP believe in democracy, and that is why we named our party Gambia Party for Democracy and Progress, and we will stand by any party that believes in democracy.
As at now, we are not saying 'Yes or No' to any coalition or alliance. GPDP can even form a coalition with President Yahya Jammeh, Ousainou Darboe, Hamat Bah, Mai Fatty or any political party leader. We don't have a political difference with any party, because we believe in dialogue and democracy; we are all brothers with one objective, and that objective is to move the nation forward.
In every country, there is a constitution, and we accepted in good faith the decision of the IEC in the 2006 nomination, but I will contest the 2011 presidential election and nobody would dear say that Gomez is not living in this country.
"IEC is even aware that Gomez is in town since 2006 and, in fact, the people themselves are aware. It is said that, in politics, there are no permanent friends, but permanent interests.
In the 2006 election, many people were cowards not to allow Gomez to contest. But in 2011 there is no way out. I am a 100% citizen like anyone else, and both of my parents are all Gambians. So I got all rights to stand as a presidential candidate, and I believe I am the only candidate that can unseat the APRC regime in the 2011 polls.
The GPDP Agenda for the 2011 polls will be out by January 2011, and the whole country and beyond will see our agenda and know that we are not toothless bulldogs. We are not here to throw words against other politicians, but we are here for development and democracy, and that is what we stand for.
We need change, and we are here to change the political system in this country. The APRC has been ruling for 16 years now, and I think Africa as a whole should consider changing our political situation, and make sure that no leader sits for more than two terms. Two terms is enough for every leader".
On Ivory Coast
What I will say on the current political impasse in the West African nation of Ivory Coast is that the situation is very sad, seeing Laurent Gbagbo unlawfully clinghing on to power, despite local and international condemnation. This problem has been going on for a while and, in Africa, we have so many bad leaders; leaders who don't believe in God but believe in their selfish interest.
"We have seen the problem in Ivory Coast, Kenya and Zimbabwe. Why should African leaders like this issue of power sharing? As Africans, we should be in a position to handle our own problems. ECOWAS and the AU should not have waited till the EU intervened.
Zimbabwe is now being ruled by two governments. Kenya is also in the same situation of power sharing, and this is not solving the problem. There is no constitution in this world where power sharing is written.
The idea of power sharing should not be encouraged, because this is the reason why Laurent Gbagbo is still insisting on not handing over power to the winner. I firmly believe that there should be no compromise in removing Gbagbo from power. Any party that loses an election should leave power and go.
"The GPDP condemns, in the strongest terms, the clinching on to power by Laurent Gbagbo".
On GPDP relations with other parties
"I have not been communicating with any opposition party since 2006. One thing is that people have heard about the GPDP joining forces with the ruling APRC. But what I want to make very clear to every Gambian is that I  wrote a letter to President Yahya Jammeh some time ago, which was signed by myself.
"The content of the letter was that, hence it was not time for election, it was time for nation-building, and we wrote to the President for the two parties to join forces in building the nation. We did not write to him to form a coalition, but to work together. Gambians should know that this Gambia belongs to all of us, and not Henry Gomez, Ousainou Darboe or President Jammeh.
"In a true democracy, when elections are over, the incumbent and the opposition parties come together, and work towards nation building and that was what the GPDP was looking for. Unfortunately, this has not come through, not because of the GPDP but because there was no response from the APRC. Now that the election is getting closer, we do not expect any reply to that proposal.
"From Kartong to Koina, the GPDP has support, and the youth like the party. The best party that has grassroots support in the Gambia is the GPDP. We believe that it is the youth that can effect change. 
Reaction to APRC National Mobiliser's Comment
"The APRC National Mobiliser said that the opposition camps in this country pose no threat to the ruling APRC. For me, I believe he is speaking his opinion, and time will tell whether we pose any threat or not.
"I accept and respect his opinion, because he has spoken his own opinion, but let's just wait for 2011 and see the reality. We will give Yankuba Colley fitting answers in the 2011 election".
New Year Message
"I want to wish all Gambians a Merry Christmas and a Happy New Year, and urge all to change our psyche. Now is the time for us to put our efforts as a nation to achieve our noble objective. We have to move above our differences. Let us always remember that its good to be ambitious, but inordinate ambition brings corruption, treachery and unpatriotic tendencies in us.
"Merit should come first, and mediocrity must be a practice of the past. Let us all work to be best in all what we do. I believe, now and forever, employment and contracts must be based on merit, and not on whom you know.
"God Bless The Gambia!"
Read Other Articles In Article (Archive)