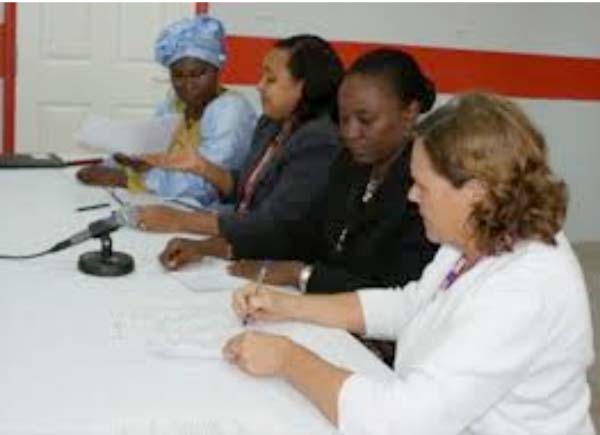 Nusrat Senior Secondary School and St Thereses Upper Basic School have emerged winners of the drama competition for senior and upper basic schools from five administrative regions.
The competition was organised by the Forum for African Women Educationalists The Gambia (FAWEGAM) with the support of the British Embassy in Banjul on the topic 'Ills of child marriage'.
The runners up were St Peter Senior Secondary School and Kwinella Upper Basic School for the respective categories.
The winners received trophies, certificates and an undisclosed cash amount while the runners up went home with certificates and an undisclosed cash amount.The rest of the participating schools were issued with certificates of participation.
The upper basic schools that took part in the competition were St Edwards Upper Basic School, WCR; Kwinella Upper Basic School, LRR; St Thereses Upper Basic School, KMC; and Farafennie Upper Basic School.
The senior schools were St Joseph's Senior Secondary School, Banjul; Nusrat Senior Secondary School, KMC; and St Peters Technical Senior Secondary School, WCR.
The national coordinator of FAWEGAM, Yadicon Njie Eribo, said in most sub-Saharan African countries women and girls are not encouraged to speak out or express their views in public.
Research has shown that one of the factors behind girls' poor academic performance was that they are not sufficiently involved in discussions of problems affecting them and their proposed remedies.
Mrs Eribo noted that theatre is used to transmit important messages in traditional African societies.
"Drama is a natural means of study and learning in children and youth, thus the use of drama to transmit messages and also to instruct the young people and familiarising them with values and socially required attitudes," she explained.
FAWEGAM national coordinator said an initiative called TUSME has been developed as an empowerment process which uses theatre to help the girls speak out.It also helps boys to be gender sensitive to overcome obstacles that hinder their academic and social progress.
Through TUSME, concepts and strategies have been developed for addressing the problems facing young people, both boys and girls, in schools.
Mrs Eribo said TUSME process involves everyone: the community, the school administration and students.
It is based on the TUSME concept that FAWEGAM has been holding drama competitions to help boys and girls understand the gender conduct of the society they live in and also train them to build confidence to speak out, share their thoughts.
Read Other Articles In Article (Archive)