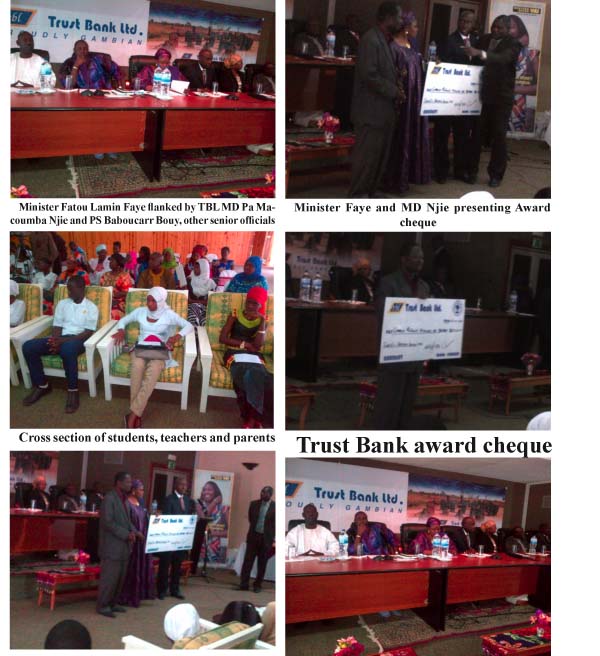 Trust Bank Gambia Limited on 11 March 2015 held its 12th edition of the Excellence in the Millennium Award ceremony for the ten most outstanding students of the Gambia Basic Education Certificate Examination Class of 2014, at Laico Atlantic Hotel in Banjul.
The best 10 students were Fatou Matta Ceesay of Gambia Methodist Academy, Alieu Kasseh of the same school, Alieu Bah of Latrikunda Upper Basic School, Alieu Ceesay of Gambia Methodist Academy, Awa S. Jobe of Sifoe Upper Basic School, Fatou Matta Saidiba of Latrikunda Upper Basic School, Modou Mboob of Abuko Upper Basic School, Rohey John of New Convent, Bigay Jeng of Gambia Methodist Academy and Kadijatou Gassama of Gambia Methodist Academy.
Each of the ten students received a new Tablet, Certificate of Excellence and D5,000 Trust Bank Student Savings Account.
Kadijatou Gassama, the student with the best result, was awarded an additional cash of D5,000 in recognition of her excellent performance in the examination.
Gambia Methodist Academy received D20,000 and a Certificate of Excellence, as the school that produced the highest number of awardees in the 12-year period of the award, as well as received an additional D10,000 for producing the most outstanding student in the 2014 Class Examination.
In his remarks, Trust Bank Limited Managing Director, Pa Macoumba Njie, said the bank remains passionately committed to the promotion of quality education as a prerequisite for national development.
As such, he added, the Excellence in the Millennium Awards was conceived to both recognize and motivate students for their outstanding performances.
He also said they have decided to include two additional prizes to allow for more recognition for excellent performance, adding that they felt that going a step further to give a special recognition to students with the best overall results is long overdue.
On behalf of the bank's board of directors, management, staff and valuable customers, he congratulated the awardees on the "well-deserved" awards and encouraged them to continue working hard in their subsequent programmes of study.
He also took time to recognize the invaluable role played by principals and teachers, as well as parents and guardians for providing the much-needed support to the students.
MD Njie highlighted the "tremendous" efforts of the Ministry of Basic and Secondary Education and all stakeholders in the national pursuit for excellence in education.
He also reaffirmed the bank's commitment to partner with government and other stakeholders to fulfill their role in health, education, environment and sports.
"Trust Bank's contribution to the Education sector was very recently boosted with a donation of D200,000 to both St. Augustine's Senior Secondary School and Armitage Senior Secondary School to help in the procurement of much-needed aids for the teaching of science in these schools," he stated, adding that followed their longstanding cooperation with the Rotary Club in their effort to build a fully-equipped science lab for the benefit of senior secondary schools in the Greater Banjul Area.
"Trust Bank has so far committed close to D2 million on this laudable initiative, and have been informed of the project's imminent completion," he announced.
"Trust Bank continues to make annual donations to schools at speech and prize giving days, including the Convocation Ceremony of the University of The Gambia."
The award ceremony and many other contributions to health, environment and sports would continue to show the bank's pleasure in giving back to the community they serve, he said.
Basic and Secondary Education Minister Fatou Lamin Faye said, in her statement on the occasion,said the award ceremony is an occasion every Grade 9 student looks up to every year, and has now become a permanent feature in the calendar of Trust Bank.
The award is aimed at supporting her ministry in its quest to providing quality education, Minister Faye said, adding that the award was another manifestation of the importance Trust Bank "attaches to its corporate social responsibility in complementing Government's effort."
"This year's award ceremony coincides with the celebration of our 50th Independence Anniversary," she pointed out, adding that it also came at a time when the celebration of 20 years of development under the second Republic has been concluded a few months ago.
"This coincidence does not only represent an intersection of a common desire by different parties to prioritise education, but also reflects an opportunity for us to celebrate together our collective commitments and achievements we continue to make in such an important sector of education in our country's developmental efforts," she continued.
The Education minister has no doubt that, through this year's award ceremony, the efforts of Trust Bank in promoting excellence in education would go down in history as one of those institutions that have stood by her ministry to create educational opportunities for children of The Gambia in a manner that rewards excellence.
"To perform well in an examination is one thing, but being among the top ten performers is not a mean achievement," she noted, whilst congratulating the winners, but also seized the opportunity to enjoin their brothers and sisters who are yet to sit to their Grade 9 examinations, to see them as good examples worthy of emulation, and for them to spare no effort at ensuring that their footsteps are followed.
The awardees are the type of students every teacher would want to have in his or her class, and every parent to have as a child, she added.
She encouraged all students to aim very high with a view to becoming one of the winners of such a prestigious award.
Minister Faye said her ministry is concerned about the incidence of examination malpractice that recently emerged in the education system.
"This is a menace we should fight at all cost and stamp it out, as soon as possible," she said, adding that they could not afford to reward "a winner who does not deserve the prize."
Her ministry would not relent in the fight against examination malpractice, and would continue to name and shame those caught in the act, she stressed.
Bokary S. Secka, West Africa Examination Council (WAEC) National Office representative, in his statement, commended the Gambia Government, particularly the Ministry of Basic and Secondary Education, for ensuring the Gambian child has access to free and quality universal basic education.
He thanked Trust Bank for complementing national efforts by instituting the award of academic excellence aimed at promoting quality education.
He also said the initiative would encourage stakeholders in education, particularly the private sector, to emulate Trust Bank in their efforts to promoting quality education and improving the human capacity, "which is now the most important resource of a nation."
Dodou Nyang, Manager, Marketing and Sales of Trust Bank, moderated the event, while Kadijatou Gassama, winner of the most outstanding student award, gave the vote of thanks. 
Read Other Articles In Article (Archive)