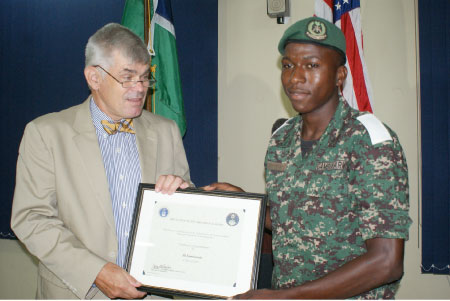 Cadet Officer Ali Sumbundu of the Gambia Armed Forces is about to travel to the United States of America to study at the U.S. Air Force Academy for a period of four years.
On Friday 7th June 2013, he was honoured by the US Ambassador to The Gambia, Edward Alford, at a ceremony held at the Embassy on Kairaba Avenue, attended by members of the Gambia Armed Forces, US Embassy Staff, Minister of Foreign Affairs, parents and friends of Ali Sumbundu.
Speaking at the ceremony, Ambassador Edward Alford described the day as important for both The Gambia and the United States of America and congratulated Mr. Ali Sumbundu for becoming the first Gambian accepted into a U.S. Military Service Academy.
"This is the first time a Gambian is chosen to go and study in U.S. Air Force Academy," he said, adding that it is something that Sumbundu should be proud of.
"As a Gambian you have a lot to teach your mates," said Ambassador Alford, adding that he is optimistic that Sumbundu would be one of the many students from The Gambia to study there.
Make your family and Gambians proud, he said, while wishing Ali the very best in his studies.
The education you gain their, the discipline you learn their and the friends you make their will help you in life; he told the young Gambian soldier who was full of joy.
"Mr. Sumbundu received a full scholarship to the Air Force Academy. Only 10% of applicants are accepted into the U.S. Air Force Academy, with only a handful of international students being offered admission every year. Congratulations and best of luck to Ali, who has made everyone in his country proud," he said.
Speaking to reporters shortly after the ceremony, Ali Sumbundu, said he is proud and motivated to be the chosen one among the lots.
He said he would like to be a pilot by 2017 when he completes his studies.
Sumbundu thanked the GAF and US Embassy for the opportunity given to him, while assuring that he would make the best use of it.
Read Other Articles In Article (Archive)