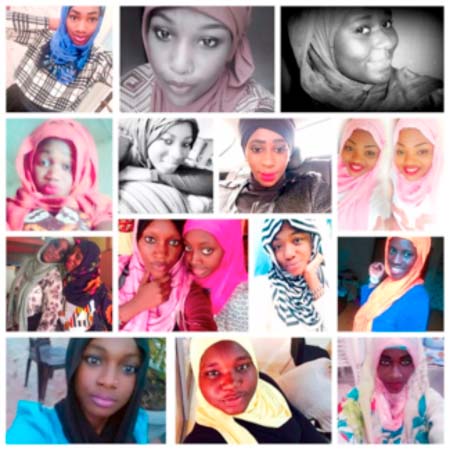 It is said that we live in the world of the mobile phones, especially the use of whatsApp, which is one of the leading applications that is keeping families, friends and the world at a standard where everybody does not miss each other.
One importance of this application is that it brings people from different parts of the world together, to make new friends.
Hijab Sisters is a chat group created two years ago by one Ndey Sohna Drammeh, a 23-year-old young lady and a hijab sister, who resides at Bakoteh.
During an interview, she said the group was created two years ago in the month of Ramadan to enlighten one another on how to keep the religion and be steadfast in Islam.
According to her, the group consists of 47 members who are basically hijabis, but due to some reasons many have left the group.
"We are basically 25 in number right now, who are from different parts of the world to bring together people who are religious in the face of Allah not only by appearance, but in the heart," she said.
Speaking to some members of the group during an interview last night, Agie Maimuna Gaye, resident of Manjai, said "we the hijab sisters are among the group in The Gambia", adding that they are all cool and crack jokes despite the religious fervor. "We pray for each other, socialise and help out each other."
"Most of us knew each other from the group, but it's like we have known each other for ages. Most of us have some little issues within ourselves, but at the end we are all one," she continued.
According to her, been hijabis does not mean that they should not have a role to play in society, stating that they are planning to meet the President.
The "hijab sisters" support what he does, especially in the issues of women and children, he added.
Ms Gaye added that with the support of the President they are planning to come up with a foundation call the "hijab sisters' foundation", which would basically be based on the issues of children and young girls, in particular.
"We will forever support him because we see what he is doing, especially for girls and women," she added.
The pronouncement of the ban on FGM touched their hearts, and they want to form a foundation as soon as possible to enlighten people about the Islamic aspect on FGM, she said.
According to her, despite the veil they all have a bright future as they are young, talented and educated girls.
"We do not want to be job seekers, but job creators. We all are determined and working towards the development of the country; as young ladies we want to be role models to other Gambian girls," she continued.
Fatou Faal, another active member of the group, explained her personal experience since she joined the group.
"I have seen a lot of changes in my life since I became a member, because before being a member I was so ignorant about my religion and knew a little about it but the group has helped me to be steadfast in my religion," she said.
Yama Barrow, a Gambian based in the United States, said the group makes her feel at home, and when she gets bored and depressed she runs to the group.
Khadijah Barbie Ceesay, who also resides in the US, added that there was nothing more nicer than being close to your creator and bringing people to know each other, especially in the area of Islam.
"It is a free membership, basically for Gambians who are working towards developing the nation," she said.
Read Other Articles In Article (Archive)