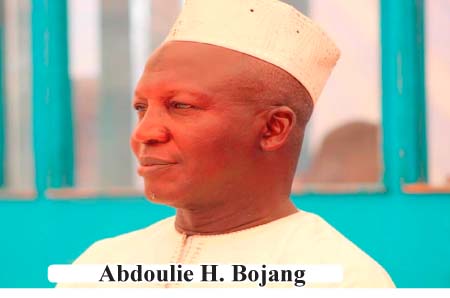 Abdoulie H. Bojang, former officer of The Gambia Police Force (GPF), on Thursday appeared before the TRRC's regional hearings in Jambur, disclosing that his son Lamin Bojang died as a result of gunshot during the students' demonstration on November 10th and 11th, 2000.

He said he holds the Police Intervention Unit (PIU), responsible of the death of his son.
Mr. Bojang who was enlisted in GPF in 1977, explained that on the 9th of April, 2000, he travelled to Basse with his wife Kaddijatou; adding that on his way back, he came up to Pirang and tuned on one of the local radios and heard Ebrima Sillah, former reporter of the BBC, saying there were shots and some students were killed.
The witness testified that upon arrival at home he found people converged in his home.
"I searched for my child in the village but could not see him and I later proceeded to the hospitals but I found the situation was tense as nurses were busy attending to injured victims."
He explained that he was told by the nurses that Lamin was there but he could not see him and he decided to come back. He added that it was a sleepless night for him and his family as they were desperate to see Lamin.
He described Lamin as an intelligent chap who always was 1st or 3rd in class while at school.
He said he was later informed by one Doctor Sise that his son was dead, and they led him to the mortuary where a bangle was placed on his son's hand and took a photo of the corpse. From there, he said, he did not cry.
"My son was shot in the head just a little above his right ear."
Mr. Bojang testified that he did his own investigation and was informed that the students expressed their grievances on the death of Ebrima Barry and the rape incident of Binta Manneh. He added that his son was shot at Ice Man Junction, just around the PIU Headquarters.
"After two days, I was handed over the corpse of my son and I held the PIU responsible for killing him," he said, adding that he received condolences from the government."
The witness further testified that he took a list of parents and deceased of April 10/11, 2000. On how he was able to compile the list of dead students and parents, he said families of victims converged at the hospital and it was through that he was able to get their details.
He said while he was at the hospital, he was concerned about a particular child who was shot in the jaw and his tongue was shattered on his chest and could not be identified.
The witness said they agreed to have meetings to pursue the interest of their loved ones who were shot, but after he attended two meetings, he did not attend any further meetings on the grounds that the meetings were attended by security agents from the National Intelligence Agency.
According to him, based on his experience from the Police and U.S. Embassy, demonstration should not be a problem.
"The previous government attached evil to demonstration which is wrong. If people are protesting, they need to be provided with security and a permit as well."
Mr. Bojang indicated that the testimonies made by police officers at the Commission of Inquiry in 2000 were false and the Commission ruled in favour of the students but the president later passed an Indemnity Act.
He said the government expressed condolences and gave him D5000 accompanied with a letter from the minister of the Interior and Religious Affairs, but he gave the money to people who attended the funeral to buy mats for their mosques and pray for the deceased.
Mr. Bojang stated that the letter from the said ministry was a joke.
"I was not aware of the prayers, it did not occur here in Jambur, where did they pray," he asked.
"We had a great loss. Lamin would have been supporting the family by now as I am getting old."
Speaking on the impact of the incident, he said he was charged criminally for failing to produce someone he stood surety for bail and was targeted and prosecuted by the police. He said that this was fabricated as a result of his testimony against them at the Commission of Inquiry.
Read Other Articles In Article (Archive)