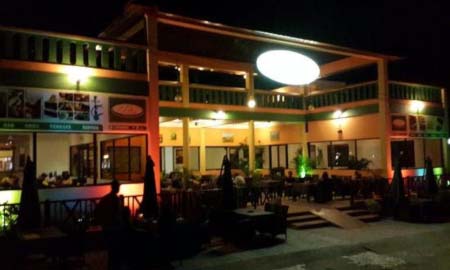 TripAdvisor, one of the most reputable travellers website in the world, has ranked Olivia's Bar and Restaurant of Kololi, Senegambia, as the third best restaurant out of forty-eight (48) in its December ranking.
The ranking is based on customers' feedbacks, comments and complains that are frequently reviewed and analyzed by the site.
In his reaction to the news, Serign Modou Ndong, head waiter at Olivia's, said: "The news comes as a surprise judging by the fact that the restaurant is just two and half months old and being recommended out of the lot is a great joy and happiness to us."
According to him, this could not have been possible without the dedication and commitment of both the management and staff towards providing excellent service to their customers, adding that the restaurant will continue to push up so that by the next ranking it can emerge the first spot.
"We are so much grateful to our management who are doing everything possible to create a niche for this new restaurant and there is no doubt in my mind that with commitment and selfless service delivery we will be there," he said. "I am also calling on potential customers to give us a try and see what value for money means to them and to us." Olivia's Bar and Restaurant is one of the newest restaurants along the Senegambia strip. It was open on15 October 2013 but since its inception it has been rendering valuable services to its numerous customers as some of them put it to the TripAdvisor:
Sharon M, from North Las Vegas, Nevada, said: "We had the pleasure of eating at Olivia on a recent trip to Gambia. I fell in love with the chicken yassa. The flavor was so incredible that when I ordered it again elsewhere, I was disappointed as there was no comparison to the seasoning in the dish at Olivia. My husband loved the fish benechin. Prices were competitive, it's a great atmosphere and they have delightful staff, who provide excellent service. We can hardly wait to go back to Gambia as it is now one of our favourite restaurants. I just wish I could get those recipes."
Another, Neil B. Corsham from the UK, said: "We had a great time there. Staff were welcoming, food was great and the owners were wonderful. Our every desire was met with a smile. The entertainment was different every night and Des Desmond had the whole place on their feet. We held my mum's wedding reception there and it was fantastic. We really could not thank you all enough."
One Serena also from the UK said: "The service and attention by management at Olivia was really good. As we were such a big group celebrating a special occasion, the management team at Olivia made sure things were spot on. Our table was well presented and overlooked the Senegambia skyline. The food was impressive as well and the cocktails, splendid. We had not told the team."
Kath also a British tourist had this to say: "This recently opened restaurant is like a breath of fresh air to the Senegambia strip. It really is fast becoming the hub of the strip. A very lively vibrant place to be. The staff could not be more friendly or attentive to your every need. The food is of excellent quality and cooked to perfection. One tip tries the lobster or the king prawns amazing."
TripAdvisor.com is a travel website that assists customers in gathering travel information, posting reviews and opinions of travel-related content and engaging in interactive travel forums.
TripAdvisor was an early adopter of user-generated content.
Read Other Articles In Article (Archive)