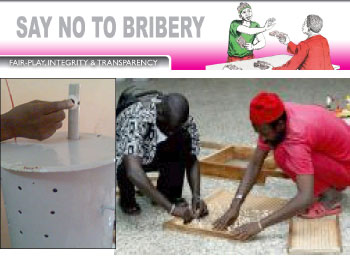 The National Youth Parliament (NYP), in collaboration with the Independent Electoral Commission (IEC), recently embarked on a three-day voter education campaign.
The 3-day training (13 to 15 November 2011), held at the Transgambia Lodge in Pakalinding, Lower River Region, targeted young people of 18 and above with the aim of encouraging them to massively vote in the November 24th presidential election and subsequent elections in the country to eradicate voter apathy.
In his address to the participants at the event, Lamin Saidykhan, admin secretary at the NYP, said that as the country prepares for the presidential election, the NYP, as part of its youth empowerment endeavour to hold series of youth forums, is targeting also senior secondary schools on the voter sensitization scheme.
The forum, he said, is supported by the IEC and it will enable eligible youth voters in schools to receive relevant information on elections.
It will also serve as motivating factor in protecting the country's culture of peace and tolerance, he added.
For his part, Abdoulie Fye, programme manager at the National Youth Council (NYC), says the training is very important for young people it helps them to understand their civic rights and responsibility as citizens.
It would also help them to participate effectively in national development, he noted, saying election is all about national development.
He said the community outreach strategy that he made presentation on at the event would help them to understand the issues in the country.
Such programmes would help young people to know the importance of elections as well as how to vote and where to vote, Mr. Faye said.
"The community is to be aware of these things, particularly the young people since they are the majority," he said, adding: "The NYC is here to empower youths and this is our stand."
In his statement Solomon Jatta, a participant, said he felt opportune to be part of such an important training.
He also said they are ready and willing to go out to their fellow youths and share with them the message because they are well equipped with the information given to them during the training.
He also stated that forums of this nature and visit to selected schools would boost national efforts in reducing voter apathy.
He therefore thanked the IEC and the NYP for such an initiative.
Meanwhile, the community outreach sensitization of the NYP is expected to take place between 17 and 20 November 2011.
Read Other Articles In Article (Archive)