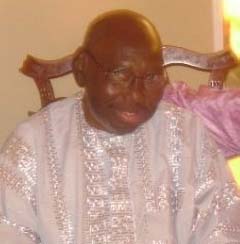 The death of Baboucarr Ousman Saho has come as a tremendous loss to his family, friends and colleagues. It is still difficult to believe that we have lost "Koto" Babou, as he was fondly called. Although he has left us, his good deeds and spirit will always remain with us. We have lost a father, husband, brother, mentor and a true friend. He will always be remembered for the continual guidance, support and encouragement he offered many of us.
Saho can best be characterized as wise, generous, benevolent and intelligent. His warmth and humor were remarkable. He managed to touch all those who knew or were able to work with him. These qualities among others made him a very special person to many of us. His conversations were always full of words of wisdom, inspiration and encouragement.
Baboucarr Ousman Saho was born in Banjul, The Gambia on February 11, 1940 to Ousman K. Saho (Big Boss) and Ya Amie Jallow. Babou Saho graduated from Yundum Teachers Training College in The Gambia. He began teaching at Essau Primary School, Diabugu Primary School and Mohammedan Primary School. Babou Saho was a very righteous man who believed in the power of education and had always encouraged the young to excel in their academic studies and supported all those who pursued higher learning.
Babou's long time friend and brother, Mustapha Senghore, who was his colleague at Mohammedan Primary School, recalled how dearly the students loved him:
"The Principal and all the Teachers respected him tremendously. Babou Saho was a man of good conduct in private and in public. He was always frank, sincere and truthful - both in casual form and in professional life"
After training as a teacher at Yundum College, Babou Saho immigrated to the United States in the 60s, where he completed both a B.A and M.A in Political Science from Howard University in Washington DC. Following his university studies in the United States, he returned to the Gambia where he served as a senior civil servant.

During this period, Babou Saho served throughout the world including Saudi Arabia, Sierra Leone, Belgium and the United States as a Gambian Government diplomat. While on international soil, Babou always put the needs of his fellow Gambians first, from students to political dignitaries. His house was open to all (and was called The Gambia house). He was truly a man of the people who interacted directly with all persons from different classes, backgrounds, and ages.
As a diplomat, he worked tirelessly for the well being of Gambians in particular and Africans in general. His passion, humor, and spirit will continue to live on. He has spent a life of dedicated service to the African cause for which he will always be remembered and greatly missed. After the 1994 coup d'etat in The Gambia, he retired from the diplomatic service and then returned to teaching as a Professor of African Studies at Manhanttanville College and College of New Rochelle both in New York, USA. These experiences combined demonstrate both his commitment to education and to the development of his nation.
Many have had memorable moments with Babou, in his home in Connecticut. I will always remember his eloquence, clarity, passion and the forcefulness of his arguments while we were discussing the Gambian situation in particular and African politics in general. It was most refreshing to listen to him and needless to say, we shall all miss the freshness of his thoughts and critical analysis. He was both a brilliant writer and debater who had a very strong passion for Africa. His analyses were rich, inspiring and unique offering perspectives on a number of subjects - ranging from politics and education to religion.
Babou Saho's professional experience offers a small glimpse into his life. However, he is best known as a family man. His doors were always open to friends and family both immediate and extended. Many of his nieces and nephews were raised in his home alongside his own children. While this piece offers a glance into his life, it cannot capture fully the essence of his experiences and the impact he had on many lives. "Koto" Babou Saho can be characterized as witty, intelligent, pious and generous. Though his death came unexpectedly, he lived a full life and will forever be remembered.
Fond memories will be shared by his mother, Ya Amie Jallow, his wife Awa Sarr Saho and his three children, Pap Cheyassin Saho, Ndey Amie Saho and Ramatolie Saho. Saho will also be remembered by his lifelong friends, "The Inseparable Friends", Abdoulie Sosseh, Sourahata Janneh, Sulayman Batchilly, Abdou Janha and Alhadji Bah. Memories are also shared by his brothers and sisters, cousins, nephews and nieces, aunts and uncles and many friends.
For his children, they have lost not only a father but a friend and a mentor. Babou taught us all the importance of education, giving us not only the resources but the motivation to excel. He taught us the importance of faith and the significance of culture.
For all this, we will always remember him and will always love him. His love for his family, his devotion to his children is known by those who knew him well. Babou was a bright and warm person who touched the hearts of all those who knew him. He will be greatly missed by all those who knew him. He was a good friend and advisor who will be missed. The death of Babou is truly a great loss for so many of us. The distinguished Gambian scholar, Professor Sulayman Nyang summed it up when he said: "Babou was wonderful human being who was generous and very humble."
We will always be inspired by his dedication and commitment to work for the good of humanity. He has left a most enduring legacy that we should take forth. Babou lived a life of service to humanity and had always supported worthy causes to uplift the cause of humanity. His legacy will be enduring and always be cherished.
May Allah give his wonderful family the fortitude to bear this irreparable loss. May Allah forgive his sins and accept him in Al Jannah..
Ramatolie Saho and Alagi Yorro Jallow contributed in preparing this tribute to Alhagie Babou Saho
Read Other Articles In Article (Archive)