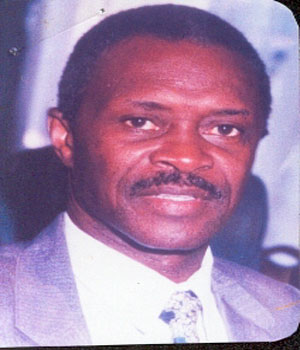 Over two thousand Christians across the country last Friday converged at St. Therese Lower Basic School in Kanifing, to witness the first-ever open-air dramatised Passion of Our Lord, Jesus Christ and station of the cross.
This dramatisation was based on a book, called Dramatised Passion of Our Lord Jesus Christ, written by George Gomez two years ago.
Delivering a statement at the occasion, Rt. Rev. Robert Ellison, Bishop of Banjul, said some time ago, he was uplifted to read about a drama presentation of the Passion of Christ, due to take place on Good Friday, 2nd April 2010 in London and about the same time he learnt about the first air production initiative.
He said the Greater London Authority has given its approval to this public event and the Archbishop of Westminster, Vincent Nichols has given it his full blessing. He noted that there is a very encouraging sign of hope in a country where any public manifestation of one's faith is often interpreted as imposing one's religious values on those who do not believe.
He commended Mr. Gomez for undertaking such a challenge, adding that Christians celebration of the mysteries of their faith often rely too much on the spoken word, as proclaimed from the Book.
He urged the Christians to promote the medium of drama in order to enter into a deeper awareness of their faith.
Speaking to this reporter shortly after the show, the man behind the first Open Air Dramatised Passion of Our Lord, Jesus Christ and Stations of the Cross in The Gambia, Mr. George Gomez said this is the first time that the Passion of Our Lord Jesus Christ has been dramatised in an open air in The Gambia. Mr. Gomez said when Bishop Ellison read it, he was convinced that it is something Christians need to bring to The Gambia and he (Gomez) said dramatised Passion of Our Lord Jesus Christ and Stations of the Cross has been done all over the world. He said three weeks ago he returned from the UK, where he was helping three churches to do the passion.
He said he has about seventy actors in the drama, adding that the actors came from all the main churches in the country, namely Cathedral, Methodist and Anglican.
Mr. Gomez said the dramatisation gathering was a multi-denominational programme, noting that he was proud of the book he had written, which he said was approved by the Bishop of Banjul Rt. Rev. Bishop Robert Ellison. He said the dramatisation was something that worth using for the church not only in The Gambia, but all over the world.
Mr. Gomez said some of the churches are using the version of his book on Palm Sunday.
Read Other Articles In Article (Archive)