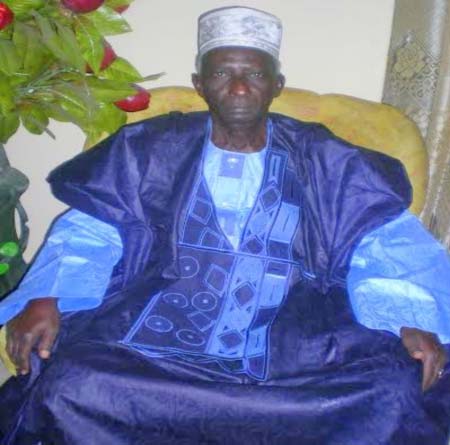 On Sunday 13th April 2014, Mr. Seni Sise commonly known as 'Master' passed away after a brief illness. A native of Janjanbureh, Master Sise was born in July 1931 to Mr. Sanading Sise and Aja Satan Sanneh, both natives of Janjanbureh.He attended Armitage School from 1943–1951 and after successful completion underwent teacher training to become a teacher; a profession he grew to love and never left up to the time of his death.
Mr. Sise served in many schools starting with Essau School where he was first posted in 1953. In1954 he moved to head Pakalinding Primary School where he served up to 1959, the year he went for further studies overseas at Newland Park College (UK) to pursue a one year course in education administration. Upon his return he continued to serve as headmaster in other schools including Brikama Primary School (1960-1962), Campama Primary School (1970-1976), and Bakau Primary School (1976-1986) which were, at the time, among the largest in the country by the size of the pupil enrolment. As a teacher, he will always be remembered as a strict, just and very disciplined person who expected from his pupils hard work and discipline. For those who fail to take their schooling seriously he readily reminded us of Oliver Smith's headmaster in his poem 'the Deserted Village':
'A man severe he was, and stern to view;
I knew well, and every truant knew;
Yet he was kind; or if severe in aught;
The love he bore to learning was in fault.'
He took his duty to educate seriously and spared no effort to help and guide the little children brought under his care. How many have passed through his hands and became important members of our community today?
From his fellow teachers serving under him he demanded high professional standards but was always ready to give support and guidance, particularly to the young ones. In fact, in one instance whilst in Campama School some teachers considered 'rebellious' were posted to his school from Crab Island Secondary Technical School.
This period, it will be recalled, coincided with the Black Consciousness movement in United States which impacted on some of our youth. Mr. Sise successfully worked with these teachers and by the time they left his school they had become fine teachers with one of them later becoming a lecturer at the University of The Gambia after his university education.
With these people he had maintained very cordial relations which had survived up to the time of his death. Sometimes a little support and understanding can make a difference to our lives, and Master Sise provided much support to many he encountered during his brief existence on earth.
In communities where he served, he developed long-lasting friendships with the population as a way of promoting education and the educational agenda among them. Before the start of every school year, he would wage vigorous campaigns among the local communities encouraging them to send their children to school. This was during the fifties and early sixties when western education was still viewed with some suspicion in some communities.Among some of his long-time friends was the ex-Chief of Jarra West, Mr. Buwa Kinteh of Pakalinding. A friendship no doubt based on mutual respect and a desire to promote education among the people of Jarra. Asked what he would most remember of his friend, Chief Buwa, as he continued to be popularly known, replied 'truthfulness, commitment to and love of teaching.'
Master Sise and his colleagues, these early pioneers in education, pursued their mission with love and selfless devotion. To all of them, we humbly express our deepest gratitude for their sacrifice and commitment in moving education forward in this country.
To his family Master Sise was both loving and caring but no less demanding in terms of discipline and performance. He was married to Mrs. Fatou Sise nee Sagnia, a distinguished trained teacher as well, with whom he moved around in many of his postings. After a successful teaching career, Mrs. Fatou Sise later went on to serve in other public offices before being nominated into the Parliament. The second wife, Mrs. Abbie Sise, was an insurer by profession and successfully worked with the Gambia National Insurance Company for many years before retirement.
In his children Master Sise instilled discipline and hard work which helped to make them successful persons later in life. Perhaps the most well-known among them was the late Ousman Koro Sise, who briefly served as Minister of Finance in the early days of the Armed Forces Provisional Ruling Council (AFPRC) Government before his tragic death. In the face of this personal loss and grief Master Sise maintained a strong faith which helped to comfort and fortify the other family members. His other children include Aji Hawa, Momodou Lamin (alias Duu Lamin), Ya Bajen, Satou, Aji Sukai, Nafi and Binta. Among them is a doctor, an architect and a nurse.
Mr. Sise's home in Serekunda was not just for his nucleus family, but for the entire Sise kunda family. He put up with his brothers until they were ready to be on their own. To the children of Sise Kunda 'kabilo' he provided guidance and support, personally overseeing their education in school. Similarly, to the other members of the extended family he remained a focal for family reunions and helped resolve family disputes/disagreements that occur in any family.
In addition to his family, many children were entrusted to his care by parents, no doubt impressed by his character and personality. He brought them up as his own. Some of them include Mr. Musa Dampha the retired Director of Extension Communication (Agriculture), Mr. Ebrima L. Sonko, US OXFAM Regional Director for the Senegambia Region resident in Dakar (Senegal).
After many years of teaching, Mr. Sise finally retired from the teaching service in 1987. Retired but not tired, Mr. Sise's services continued to be solicited in the field. He took up the position of supervisor/monitor in Serrekunda Lower Basic School to help strengthen the quality of teaching, particularly, that of English Language in the school and he served in this capacity until his untimely death. In recognition of his professionalism and selfless devotion to duty his peers had this to say about him in 2012 when they awarded him the Certificate of Merit. 'Mr. Sise had been found to have performed excellently and well beyond expectation in the discharge of his duties. In recognition of his exemplary comportment and assiduity, the Association ofRetired Gambian Teachers has the honourand pleasure to award this Certificate of Merit, in appreciation of his being an excellent and worthy ambassador of this organisation.'
Outside The Gambia Mr. Sise also regularly visited the United States during the summers months of June, July and August from 1969-1971 to teach Mandinka language and culture to Peace Corps volunteers preparing to come to The Gambia. This exercise helped the Peace Corps integrate into Gambian society once they arrive. It was an undertaking where his teaching experience and vast knowledge of Mandinka culture and rural life serve him well. Master Sise loved teaching and remained dedicated to a profession he grew to respect, never missing an occasion to make use of his skills to impart knowledge and help bridge cultural gaps for a greater understanding among peoples and nations.
In the wider society, he also played an active role as a member of the Public Service Commission, as well as a member of the Hajj Committee during which tenure he accompanied pilgrims to the Holy land.
In the social and cultural sphere, he took an active part in the socio-cultural revival of Janjanbureh. Together with the late Jay Saidy, his friend and brother, they provided the intellectual pillars that anchored this revival whilst Lady Aja Fanta Basse, the great matriarch, provided the social and organizational support for the collective endeavour.
The demise of Master Seni marked another major blow in the socio-cultural rejuvenation of the island town. The first was the passing away of Mr. Jay Saidy. Mr. Sise saw Janjanbureh as a town of great historical significance which needed to be promoted and showcased in order to promote the town's rejuvenation process. Culture was used as the driving force in mobilising the people into action, and the immediate objective in this rejuvenation process was to generate interest among the citizens of Janjanbureh, where ever they may be, about the welfare of the town.In this respect, Mr. Sise actively engaged with people in the Diaspora, notably in the United States, where he helped mobilise funds for the cultural events.
For the people of Janjanbureh, an important cause of the socio-economic plight of the town was the collapse of the river traffic and the development of modern road networks that left the town aside, making access a key constraint. In recognition of this major communication handicap, the cultural revival consistently pleaded for the construction of a bridge at Janjanbureh –Sankulay kunda crossing.This has been a longstanding demand of the people of Janjanbureh even before the cultural rejuvenation started, as some members of the older generation would recall the recurrent pleas of late Pa Junkung Jobarteh to Government. The construction of the Sulayman Junkung Bridge under the APRC Government which was opened in 2010, therefore, marked the fulfilment of an important dream for all the people of Janjanbureh and The Gambia at large.
It is encouraging to see similar cultural revival initiatives being emulated by other towns and villages in the country, as a way of reviving interest in their communities and ensuring that people, especially those from the provinces, do not easily forget home once they are ensconced in the comforts of the city. There is still another place called Sweet Home!
Mr. Sise was laid to rest in Janjanbureh. He is survived by his wives, children and grandchildren.
May Allah the Almighty bless his soul and grant him Jaanatul Firdausi! Ameen!
- Barely, forty days after the death of her husband, Mrs. Fatou Sise also passed away peacefully onWednesday June 4th 2014. May her soul rest in perfect peace!
Bolong L. Sonko, Fajara
Read Other Articles In Article (Archive)