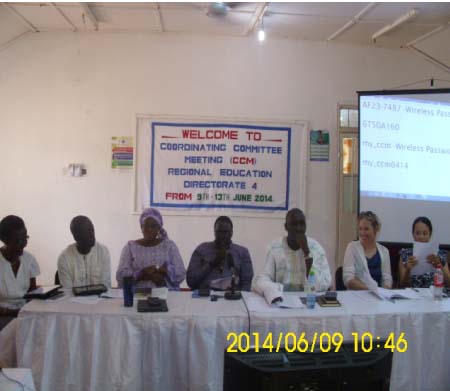 The Coordinating Committee Meeting (CCM) held at the regional Education directorate in Education Region 4 (RED 4) and organized by the Ministry of Basic and Secondary Education (MoBSE) wrapped up Friday 13th June with the selection of region two as the next venue for the event, come the new academic year.
This decision was made through a balloting procedure presided over by Baboucarr Bouye, permanent secretary at MoBSE. "The date for the next CCM is October 20th 2014," he announced.
Bouye described the just-end CCM as "successful", adding that they have seen from the reports the improvements that are happening in the schools, despite the challenges.
He asked principals whose schools were visited to work on their individual school reports ahead of the next CCM, and act on the areas requiring improvement with a view to improving the learning outcome for the students.
In a brief statement delivered at the closing of the RED 4 CCM, Education minister Fatou Lamin Faye encouraged participants to keep up the good work, noting that progress would not be achieved on meeting the education targets without collective efforts.
She said plans are under way to engage the entire education sector in the CCM process, and welcomed the increased involvement in programme implementation by the Ministry of Higher Education, Research, Science and Technology, MoHERST.
"There is no other way we can move the sector agenda without working together," she declared.
Minister Faye added: "I didn't expect anything less, given the fact that we have been through several times in various regions. Each time we go to CCM, we learn something new and it is now time to go back and try to implement the best practices in our own individual ways," she advised participants.
Since they have already set the path through which they should move, that is, the medium term plan, she hoped that their performance in the implementation of activities towards attaining the education goals will always be better than before.
Read Other Articles In Article (Archive)