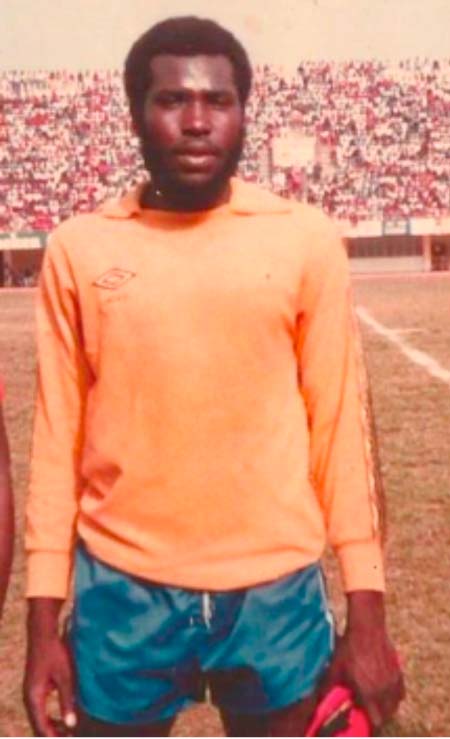 Hearts are broken, hope is lost, a legend, icon and role model has passed way in the name of Baboucarr O.K Saho, known as Serigne Mbye named after Khalipha Babacarr Sy and commonly called goalkeeper Saho.
Saho, 59, died Saturday 10 October 2015 and was buried the same day.
He is a first son of his father, the Late Alh. O.K Saho one of the founding fathers of GFA 1952 (Gambia Football Association) and served as its first Secretary General and first Manager of the Gambian National Team.
He started his footballing career with Cunningham United which later changed to Leopards where he played alongside with Amat Cham, Pa Alieu Cham, Cherno, Chur Chur Tamba and many others under the Management of Assan Kujabi.
His intention was not to be a goalkeeper but he was a winner left whilst the late Mbye Wilson was goalkeeper. It was the late Kebba Jobe who made him to be a goalkeeper after the demise of goalkeeper Alagie Cham. His first encounter as a goalkeeper was with Chossan nawettan team. This was the springboard of becoming a goalkeeper Saho. He was recruited to Kwame and the under-23 to Cape Verde.
He was once Gambia's safest hands with three finals under his belt 1979 and 1985 zone 2 finals in The Gambia against Senegal. He won many accolades with Serrekunda such as 2 Saihou Sisay trophies, Guinness Championship, and Youth week in Basse. He played in first division teams with Kwame and Gambia Ports Authority.
He also played nawettan with Saraba and Bob Marley. He moved on to play in Sweden. His active football career ended in 1988/89, and he went on playing in various selections for club international with Gambian teams.
He is mostly remembered for the penalty he saved against Mauritania in the 1980 zone 2 in Box Bar Stadium in Banjul and eventually lost finals to Senegal 1-0.
The late goalkeeper Saho was 59 years of age. He fathered 6 children 2 boys and 4 girls. He died Saturday 10 October 2015 and buried the same day.
May his soul rest in perfect peace…..Ameen!
Read Other Articles In Article (Archive)